Although quilting didn't use to be an easy task in the old times, the advancement of technology and the invention of new machines such as free-motion quilting ones have made it quite handy and possible for almost anyone to do.
However, the problem arises when you need to pick one from a huge pool of available machines. As there are many manufacturers, and each model focuses on some specific features, it gets hard sometimes.
So, here in this article, I will list the top 15 products that cut for the best sewing machine for motion quilting according to my standards, along with their pros and cons.
Buyer's Guide
To differentiate between a good and better model, you need to be aware of certain features related to a model that makes or breaks it.
Without knowing these things, you can't possibly make the best choice possible. So, make sure you go through all of them.
Built-in Stitches
The number of built-in stitches is always one of the most important factors you need to consider whenever you are dealing with machines being used for designing purposes.
What my experience tells me is that the more stitches I have the option of using, the more versatile options I have when designing the fabrics.
However, some of the machines are computerized, which have the option of importing as many stitches as you want after buying them, so it won't be a problem with those models.
But, if it's not, remember to choose accordingly as you will be stuck with only the built-in stitches forever.
Extension Table
Since most of the sewers who buy these sewing machines are interested in bulky projects, a large bed space often makes your work a lot less complex and a lot more convenient.
You can handle large-scale projects easily and don't have to worry about the fabric getting pulled and whatnot. So, even though it's not a necessity, make sure you prioritize it according to your needs.
Free Feet Motion
Even though free feet motion is not something that is necessary to have, it makes working a lot more convenient.
If you have this feature on your machine, I guarantee you that you will not get tired easily and will be able to keep working for long periods of time without any issue.
Additional Features
There are various additional features offered, such as free-arm stitching and thread tension control.
You are having a free arm while stitching is one of the most craved features by the professional sewers. It makes stitching around curves very easy and saves a lot of your time.
The same is the case with thread tension control; you will regularly feel the need to use it while working. So, never ignore such additional features on a machine as they will boost your productivity a lot.
Top 15 Sewing Machine For Free Motion Quilting
After going through all the famous models available on the market and reviewing them personally.
Here is the list that I came up with, the products which qualify for the best machine available out there.
1. Brother XR9550PRW Free Motion Quilting Sewing Machine
Brother is one of the finest makers when it comes to sewing, and they deliver amazing quality along with the features, not to mention the diverse models they offer according to different needs and features.
This machine is no different, and along with a very sturdy design, it offers a large pool of features that make quilting easy.
There are 165 built-in stitches that will help you design anything you need and a lot of accessories to let you work seamlessly.
Choosing stitches is as easy as a tap through the LCD screen, and features such as automatic needle threading and drop-in bobbin are also there to serve you.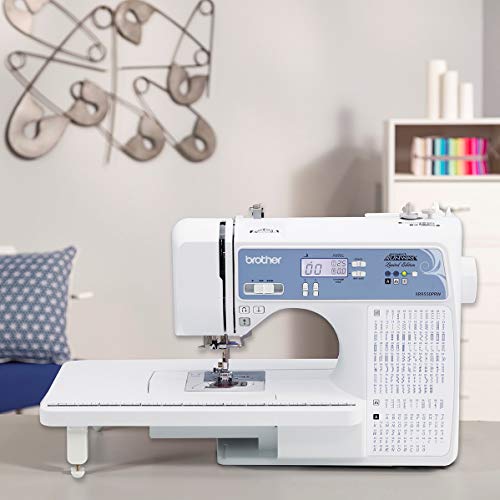 Pros
Automatic needle threading
165 built-in stitches
LCD screen
Good after-sales support
Cons
Foot pedal connection issues
Bobbin case slips out of position sometimes
2. Brother Designio DZ2400 Sewing and Quilting Machine
Coming with a wide range of 185 built-in stitches, this machine is another masterclass from Brother, which can be used in a large range of designing options without ever running out of stitches.
The backlit LCD screen is very convenient to choose the stitches to use, while the variable speed control is another thing loved by the sewers.
You can work at any speed which is comfortable for you, as there are different needs for every project.
Moreover, the work area is very bright, so if you are someone who works in the dark, this machine will be the best for you!
Pros
Bright working area
Very easy needle threading
Easy speed control
The LCD screen is backlit
Cons
Thread tangles with the bobbin case
Not good after-sales service
3. Brother HC1850 Sewing and Quilting Machine
Just like the previous sewing machines, we discussed from Brother; this one also carries a large number of built-in stitches so you won't have to face any problem in that domain.
However, this one also offers eight styles of buttonholes and 55 alphanumeric stitches, which I frankly haven't seen in most machines.
Talking about features, it packs all the necessary features to make your products such as automatic needle threading and drop-in top bobbin.
The LCD screen is also available, and it comes with a lot of accessories that help you achieve your tasks in a shorter time.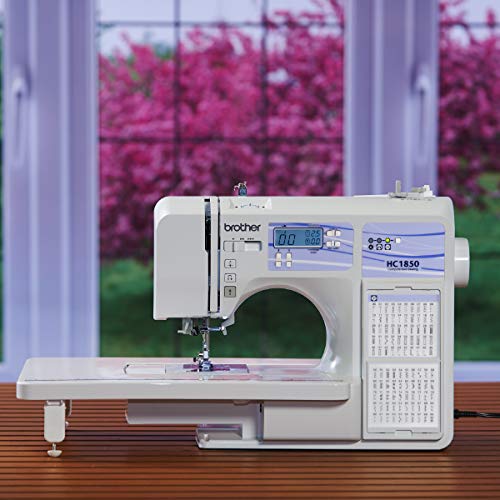 Pros
Foot and hand operation
LCD
A lot of font designs
Brightwork area
Cons
Claims about bobbin casing coming off
4. Brother ST371HD Sewing Machine
Another top-of-the-line model by Brother can be used both for sewing and quilting jobs effectively.
One of the strongest points of this machine is that the body is built very strongly, and even if you make your things go through a rough time, this machine will easily resist and go on for a very long time.
There are not a lot of building stitches included, but 37 work fine for most of the people. The free arm is available for easy sewing around the curves.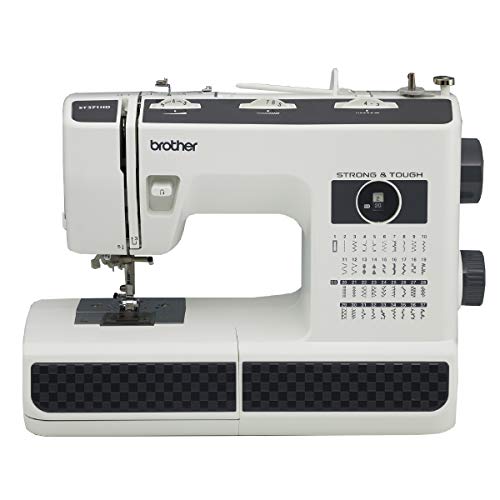 Pros
Free arm sewing
Very durable body
Easy to load bobbin
Fast setup
Cons
Less built-in stitches
Tension troubles with knit fabric
5. Brother Refurbished Sewing and Quilting Machine
Even though this model is refurbished, the quality of quilting this can deliver is quite amazing, and I love the fact that it competes with some of the most expensive models out there when we talk about the stitching in terms of quality.
It will be fair to say that it provides the best value for your money. There are various features that will make your work easier, such as drop dog feed and advanced needle threading.
Pros
Best value for money
Advanced needle threading
Excellent feed system
Includes lots of accessories
Cons
Not for high-end projects
6. Janome 8077 Computerized Sewing Machine
Janome is one of the top makers, which is known for its heavy-duty products such as this one.
With this computerized sewing machine, you never have to worry about the design options as they are practically unlimited, as you can import various designs through the internet.
The body of the machine is really solid, so you don't need to worry about the quality, ever.
Pros
Durable body
Computerized machine
Quick setup
Automatic start/stop
Cons
7. Janome MC-6300P Professional Quilting Machine
According to my personal experience as well as the customer reviews, this is probably one of the best models offered by Janome so far.
With a very durable body, it can deliver top-quality professional-grade quilting without being very hard to use.
The bed space available is large while you get memory capability as well to save designs if you want to.
Pros
Professional grade quilting
Very durable body
Suitable for high-end projects
Easy to use
Cons
Sometimes shows an E1 error which is tricky to get rid of
8. Janome MOD-19 Sewing Machine
Another masterpiece offered by Janome is this MOD-19 sewing machine.
Like the previous one, we discussed; this one also comes as a heavy-duty model that can handle loads of work without any issue.
The thing which attracts the customers most is the easy-to-use nature of this machine, which doesn't pose any issues to even the beginners.
The stitch length is adjustable while you get a free arm for convenient sewing plus quilting.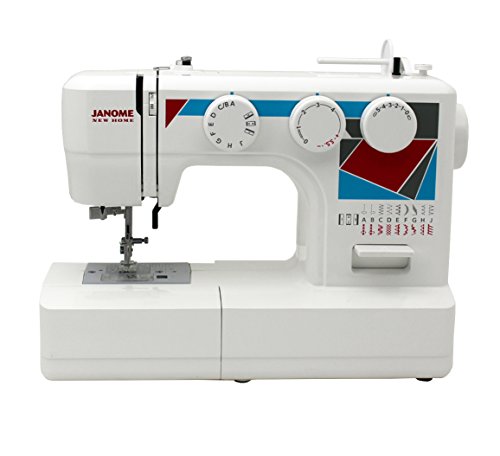 Pros
Built-in needle threader
Very easy to use
Adjustable stitch length
Cons
Some claims about the warranty being denied by customer support
Tricky to change feet
9. Janome 2212 Sewing Machine
Janome 2212 is probably one of the most famous sewing machines offered by Janome and has exceptional sewing and quilting features coupled with top-level durability.
Even though it is a 110-volt machine and can be used in the US only, it is still worth mentioning amongst the top models.
The dial pattern makes selection easy, and all the basic stitching features such as width adjustment and drop feed are there for use.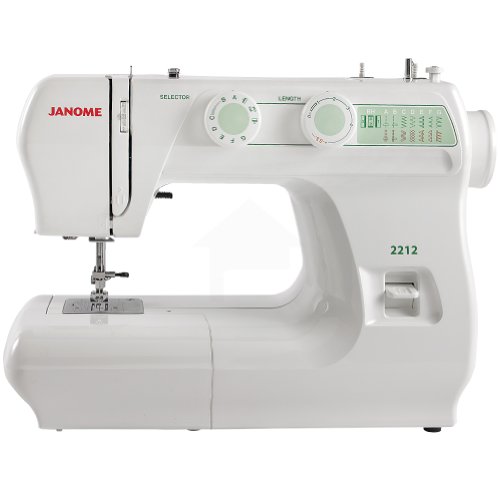 Pros
Easy to use
Drop feed
Free arm
Stitch width adjustment
Cons
Only for use in the US
Accessories are sometimes missing in the package
10. Janome HD1000 Sewing Machine
If you are someone who craves heavy-duty machines which will never fall short in power and perform best under heavy-duty usage, this is certainly your best go.
Having a pretty large fan following, this model by Janome is by far the best for high-end projects.
Since it features an aluminum frame, there are no questions about durability and you also always get to enjoy a lot of quilting features that come in handy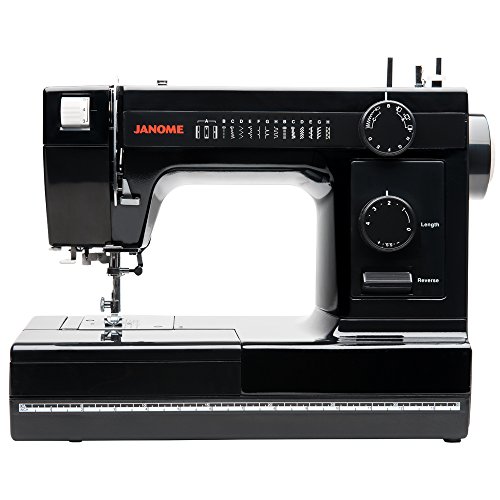 Pros
Aluminum body
3-piece feed dogs
Free arm
Cons
Doesn't have fancy features
Few built-in stitches
11. Janome Skyline S3 Sewing Machine
Janome Skyline S3 is amongst the fancier models offered by Janome, mainly targeted at people who want versatile designs but are not very keen on heavy-duty usage.
With a whopping amount of 120 built-in stitches, you can try out a lot of designs and pour your thoughts out.
The bed space is enough to house even the larger projects, so you don't need to worry about that.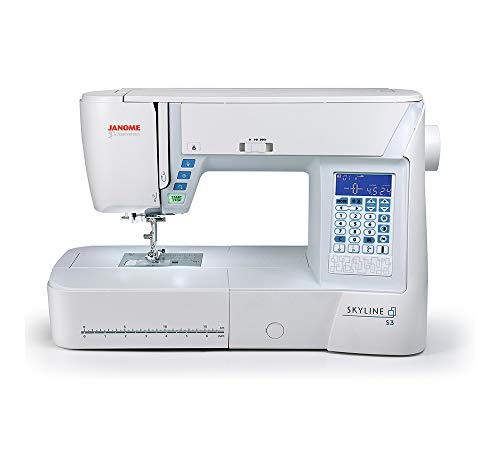 Pros
Backlit LCD
Drop feed
Widefield size
Includes a bonus kit
Cons
Doesn't come with a rolling trolley
12. Juki HZL-F600 Sewing and Quilting Machine
Juki is another emerging brand that specializes in manufacturing high-quality sewing machines and deliver high-quality machinery.
The box feed technology used is top-notch and never fails to amaze you, while the wide sewing space makes sure you never run out of it even with larger projects.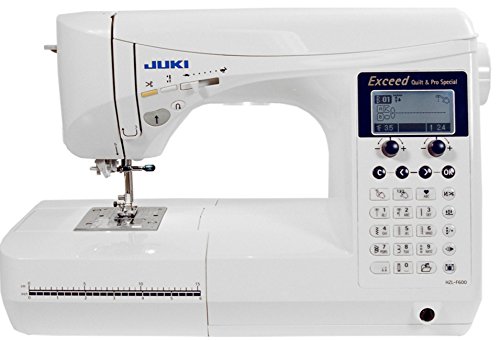 Pros
Can handle any type of fabric
Wide tablespace
Box feed technology
Very versatile
Cons
13. Singer Quantum Stylish 9960 Sewing Machine
Looking for something which can accompany you through your journeys without compromising upon the quality of quilting?
Well, this product by Singer might just perfectly fit your needs.
With a humungous amount of 600 built-in stitches, you can try anything out and the bonus accessories provided along with it making it further convenient, not to mention the diverse sewing and quilting features it comes equipped with.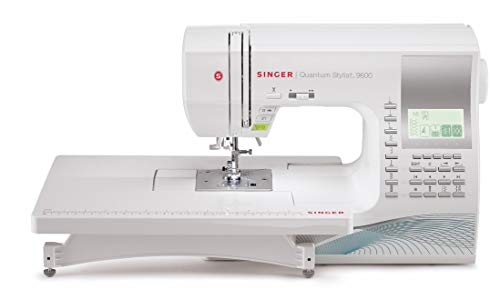 Pros
Very versatile
The highest number of built-in stitches
Portable
Many sewing and quilting features
Cons
Some flaws in bobbin winding
14. EverSewn Charlotte Quilting and Sewing Machine
Even though you might not have heard about this brand often, the products it offers are amongst the best ones in the market and in no way are worse than the huge competitors, if not better.
Coming with an LED stitch panel and 70 built-in stitches, the machine delivers amazing quality along with a very affordable price point, making it one of the highest value machines according to its price.
There are various sewing features, and the speed control is also easy to deal with.
Pros
Best value for money
Easy speed control and power button
Suitable for beginners
Feed dog
Cons
Doesn't last for the longest span
15. Juki TL-2010Q Sewing Machine
Yet another great product by Juki. However, unlike the previous models we saw, this one comes with a compact body, which makes it a perfect option if you are someone who is always on the go and needs to carry the machine along.
The arm and bed are made from aluminum, which ensures high quality, and there are a lot of sewing features offered as well.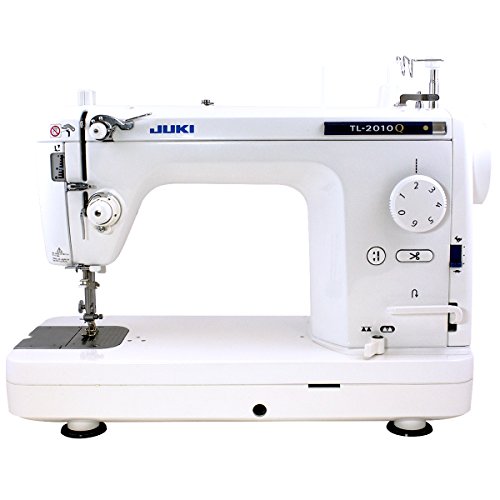 Pros
Compact and lightweight; portable
Arm and bed made from aluminum die-casting
Automatic thread trimmer
Can be used for lockstitch as well
Cons
The bobbin winder is problematic
Frequently Asked Questions
Being a beginner, you are often confronted with many different questions which are quite straightforward but look quite hard to answer.
Let's see some of the most frequently asked questions.
Do I need a special sewing machine for quilting?
Yes, you can easily accomplish the task of quilting through most of the regular sewing machines.
However, they may or may not have the add-ons which make quilting easier and more convenient.
What stitch length should I use for machine quilting?
While there are sometimes special instructions for certain projects, the usual stitch length which you should be using as a beginner is about 2.5 to 3, or you might call it 8 to 12 stitches per inch.
What is the difference between a regular sewing machine and a quilting machine?
Even though most of the sewing machines support quilting as well, but special quilting machines tend to have a larger workspace, which is very much needed when quilting.
They may also have some add-ons which make quilting more convenient.
Can you quilt without a walking foot?
Walking foot is the main thing that helps to turn your sewing machine into a quilting machine.
However, it is not really necessary if you are talking about free motion quilting, but it certainly makes your work a lot easier.
How do you do a free motion stitch?
Free motion quilting is done pretty much in the same way as regular quilting; however, there are some minor differences you need to consider.
If you are interested in knowing, you can watch a YouTube video, which will explain easily.
Which stitch to use for free-motion quilting?
Just like sewing, you are not bound to use a special stitch when free motion quilting, and depending upon the design you would like to end up to, you can choose any stitch.
Conclusion
After going through our top 15 picks for the best sewing machine for free-motion quilting, I hope you would have arrived at the one you need to get based upon the nature of your work and personal preferences.
However, if you are still unsure, I would advise you to go through the buyer's guide another time and reconsider your needs. Happy quilting!
Read Also: