Looking for a sewing machine that can make corset making easy, quick and effortless, is not only a hard job but back bending too.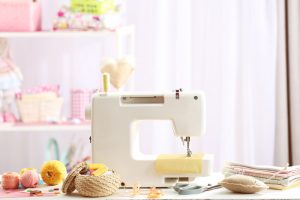 Since when you step out in the market to buy a sewing machine, there is a lot of variety in sewing machines that look the exact same but, unfortunately, do not all work the same or have the same features.
This is where most people get confused and make the wrong choice.
But not you! As I will be here to assist you in making sure you don't make the wrong choice!
I will be taking you on a very detailed review of some of the best sewing machines for corset making, along with their pros and cons on the line.
Top 5 Sewing Machine For Corset Making
I will also give you guys a small but brief buyer's guide and a FAQ section, so you don't miss out on anything at all! So let's go!
1. The Bernette Sewing Machine
At first, we have this Swiss-design computerized sewing machine by the Bernette Company.
Constructed into a sleek white body, this sewing machine is made out of metal to provide you with durability and quality and has a lightweight body so you can easily carry it around for your work projects.
Although this sewing machine is perfect for corset making, you can also use it on other fabrics too without any hesitation, making this machine highly versatile!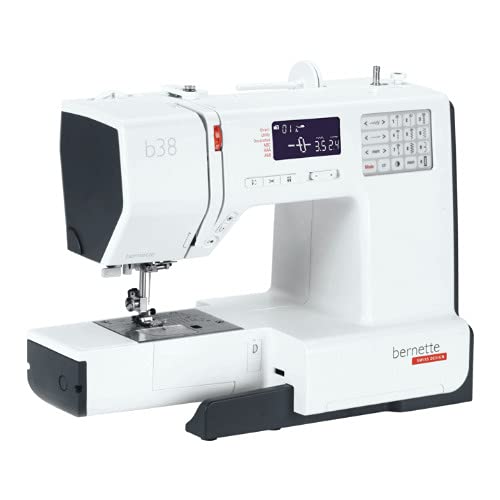 Pros 
Versatile
Lightweight and durable
Drop-in hook system
300+ patterns to choose from
It comes with a free arm
Cons 
Low-quality delivery and packaging
It does not work for long
2. Janome 3160QDC Sewing Machine
Coming with an incredible amount of accessories, the Janome Company has once again not compromised on quality or comfort while constructing its tools.
This machine has a lot of mouth-watering features like its 60 built-in stitching styles and six buttonhole styles that you can choose from and jam-proof, easy-to-set-up bobbin system.
Not only this, but it also has handy function buttons that allow you to fully control and adjust your machine with just a few buttons!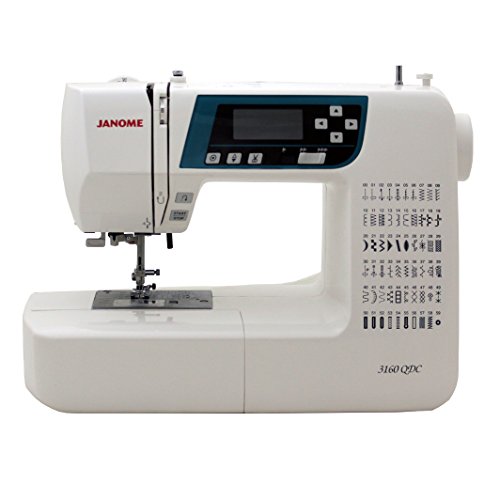 Pros 
60 built-in stitching styles
Jam proof system
Handy function buttons
It comes with a large number of accessories
Cons 
Thread does not maintain tension
Jammed threads keep breaking needles
Not long-lasting
3. Singer 4423 Sewing Machine
If you are into heavy-duty machines, then this is the one for you.
This singer heavy-duty sewing machine has 23 built-in stitches, which include a basic, stretch, decorative stitches automatic needle threader, which helps you in quickly and effortlessly finishing up your work.
Allowing you to work with 1,100 stitches per minute, you can now get a quick yet precise and easily working experience.
Its heavy-duty, durable frame will spare you from worrying about its life too!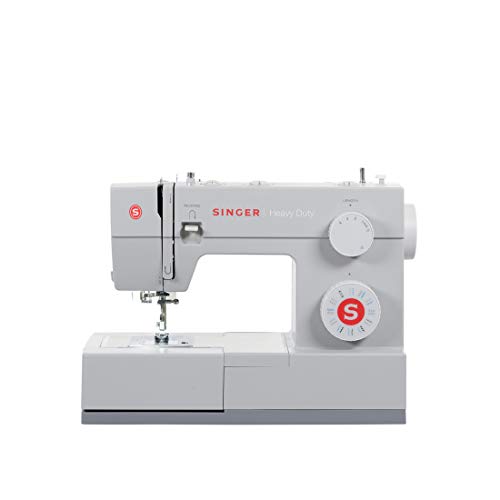 Pros
Heavy duty
Automatic needle threader
High speed
Strong frame
Cons
Not lightweight
Hard to set up
4. Janome HD1000 Industrial Sewing Machine
This is an industrial-grade sewing machine that is built with an aluminum outer body to provide you with a strong and sturdy frame that you can easily take wherever you like.
Easy to use, this sewing machine although, made for professionals, is very easy to use and set up, coming with 14 stitches and a very convenient automatic needle threader; you now also get to adjust your stitch's length and width too!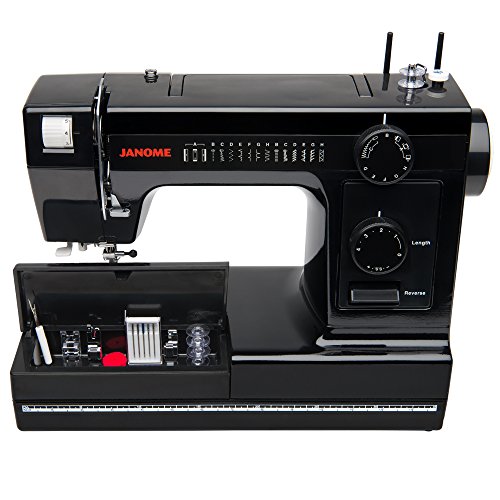 Pros 
Industrial grade
Constructed with aluminum
Automatic needle threader
Easy to use
Cons 
Not very versatile
Hard to set up
5. Janome 1600P-QC Sewing Machine
Another great hit by the same Janome company, this sewing machine is made out of pure metal, which no doubt says a lot about its durability and stability.
Coming forwards, it also has a presser foot sensor and comes with a memorized up/down needle setting along with an independent bobbin winder and variable speed control.
As if all this is not enough, last but definitely not least, it also has an automatic thread cutter!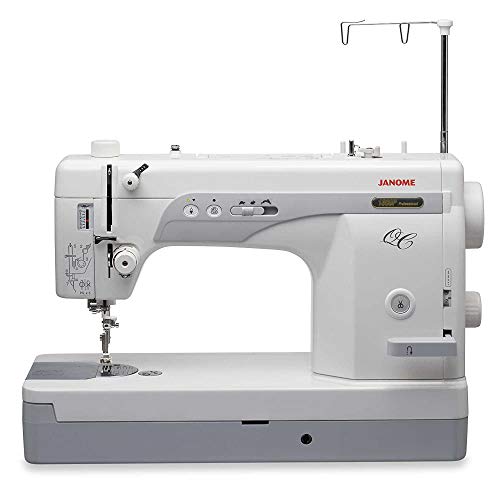 Pros 
Memorized needle setting
Independent bobbin winder
Variable speed control
Automatic thread cutter
Cons 
Thread keeps getting caught in the bobbin case
Not durable
Buyer's Guide
The main goal of a buyer's guide is to help you identify your tool in such a way so that you can get a better understanding out of it.
Here are some of the important factors that you should keep in mind when buying your sewing machine
Comfort
Comfort comes above everything else! If you are not comfortable with your tool, you can never use it fully. So, make sure that
The tool that you are buying isn't too heavy
It is well lit, so you don't have too much pressure on your eyes
It is ergonomically designed, so you don't go through any wrist, back, or hand pain.
Versatility
Although our main aim is to find you a sewing machine that best works for corset making, but I would still suggest you go a little out of the way and buy a tool that is not only good for corset making but for other projects too. In this way
Your sewing machine will have more functions in less money
It won't have to sit freely once the corset work is done
You won't have to buy another sewing machine for another sewing project
Frequently Asked Questions
Can you make a corset without a sewing machine?
Yes, you can make a corset without a sewing machine, although it will be very hard.
Is it difficult to sew a corset?
If you know the right way around, then no; if not, then yes, it is!
What is meant by a versatile sewing machine?
A sewing machine that can work with different fabrics through different materials is known as a versatile sewing machine
Why is my needle breaking?
There are several reasons why your needle keeps breaking, it could be inserted in the wrong way, or it could have been damaged or bent too
Can you fix a broken needle?
Yes, you can with the help of super glue!
Which sewing machine is the best for sewing through multiple layers of fabric?
The Janome Company sewing machines are best known to sew through multiple fabrics effortlessly.
Conclusion
In this article, we have briefly reviewed some of the best sewing machines for corset makings, along with a small buyer's guide and a FAQ section; if you still have any questions or if you still are looking for any answers, feel free to give this article another read.