If you're just a regular person stitching clothes for your normal usage, you might not be needing a serger.
However, if you're in the mood to add a professional touch to your clothes, a serger machine could be the best thing for you.
However, being a beginner, sergers are not so easy to use, so it's essential you find a serger that is easy for your usage.
This article will list down our top 11 picks for the best serger for beginners you could find. So, make sure you read the whole article to find out.
Buyer's Guide
Before moving on to choosing the best serger machine for you, there are certain points you should consider. Let's see what these are.
Simplicity
Being a beginner, looking for something with all the basic features, and more importantly, a very simple design is what your priority should be.
A simpler design will encourage you to work with a serger machine. Otherwise, you might be discouraged and lose interest.
Fabric Feed
A serger machine with a different fabric feed is usually recommended because it lets you try out different things without worrying if the machine would be able to handle it or not.
Not all machines are capable of everything, which is why you should pay attention to what you intend to do before making the purchase.
Accessories
Serger machines usually come with a lot of additional accessories with them, which makes your work quite easier and enjoyable.
Without these accessories, your work could be slower, and you would be achieving hours of work in days.
Not only would it decrease your productivity, but it might also eventually lead you towards losing interest altogether.
Price
If you're a beginner and do not wish to use a serger for commercial usage, it is highly appropriate for you to buy something cheaper, which won't be very heavy on your pocket.
The main reason is that the cheap ones also offer you most of the features expensive ones offer and they will be pretty much all you need.
So, only jump to the expensive ones if you feel the need.
Top 11 Serger For Beginners Reviews
After testing some of the most used models out there in the market, we have come up with a list of our top 11 picks, which are purely based upon our personal reviews combined with the customer ratings about the product.
1. SINGER ProFinish Serger Sewing Machine
Carrying a whole lot of functions to assist and boost your productivity while doing the work, this amazing piece of art by Singer is certainly one of the best models in the market.
Having various different stitches along with integrated hems, it is quite packed with features. The stitching quality is as perfect as you could expect from any product from Singer.
Moreover, it comes quite cheap and offers computerized fabric trimming as well.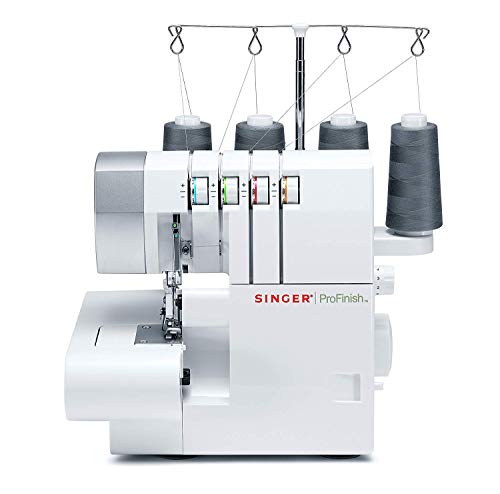 Pros
Many accessories
Easy to understand manual
Portable
Affordable
Differential feed
Cons
Not suitable for thicker fabrics
DVD carrying the instructions isn't very useful
2. Brother 1034DX Serger Sewing Machine
Brother never stays out of competition whenever it is sewing we are talking about.
Just like its other products, this machine is no different and provides extremely good quality stitching with many features as well.
Coming with a lot of accessories, it can handle a heavy workload and is able to stitch multiple layers of fabrics in one go.
The metal frame is heavy-duty, and you could expect top-notch durability from it.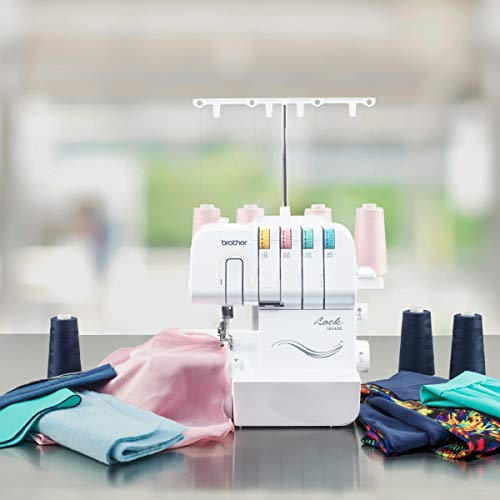 Pros
Color-coding
Affordable
Easy to use for beginners
Durable metal frame
Heavy stitching power
Accessories included
Cons
The instruction video is low quality
Made for left-handed users
3. Singer Finishing Touch 14SH654 Serger Sewing Machine
Another great product from Singer, which is very versatile in use, is Singer 14SH654 Serger.
Featuring a color-coding threading system, it makes the work of stitching extremely easy, and being a beginner would not be an obstacle if you have this serger.
The differential feed is also available so you can adjust the fabric feed according to your needs.
Other sewing features like a free arm can also be seen in this model, making it very useful.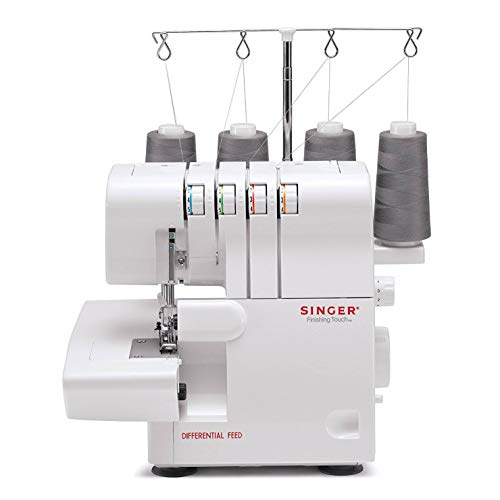 Pros
Easy to install
Differential feed
Free-arm stitching
Color-coded system
Cons
Not the best for heavy fabrics
4. Janome 8002D Serger
Janome is another major contender for manufacturing one of the best sergers across the market. They have a high share in making premium-end products related to both sewing and embroidering.
Janome 8002D offers a very easy-to-use color-coded thread that lets you breeze through your work; however, the machine works at 110-volt only so it's a bummer if you don't live in the US or Canada.
The product comes with a lot of accessories to make it easier to use even If you're a beginner.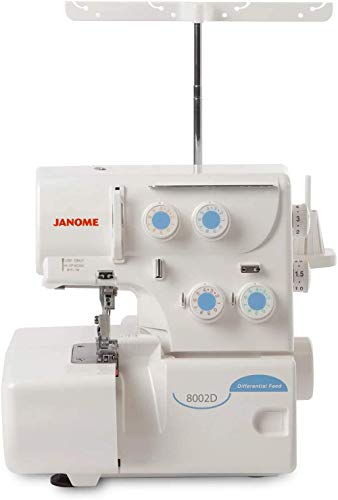 Pros
Presser feet snap-on
Easy to read threading chart
Adjustable cutting width
Thread tension is easy to control
Color-coded system
Cons
110-volt only
For less thick fabrics only
No on-board storage for accessories
5. Singer Professional 14T968DC Overlock Machine
Just as the name says, this product by Singer is rather an advanced step towards the premium category of sergers, which are mostly bought for heavy usage.
With a wide variety of stitch options, you can literally achieve any type of work with it and can expect top-quality work.
The sewing speed is decent and provides you with 1300 stitches per minute. There are four built-in hems that make your work very easy to efficient.
You can conveniently set the tension yourself and the stitches to customize your experience.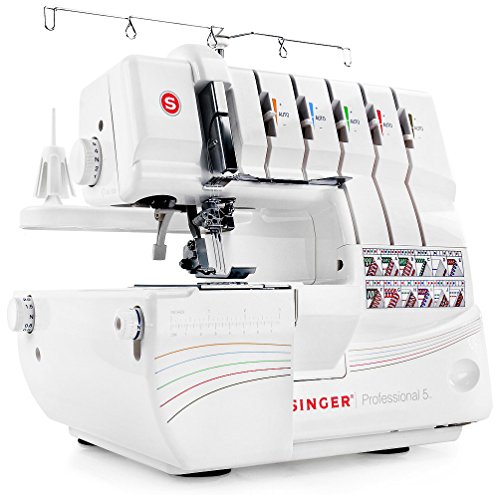 Pros
Professional finishing
Adjustable length, width, and tension
Integrated hems
Self-adjusting tension
Cons
Not the easiest for beginners
Made for the US
6. Juki MO644D Serger Sewing Machine
Serger sewing machines are usually quite heavy, and there is no way you could use them as portable machines. However, it's not the case with this product by Juki.
While offering you a very good quality of stitching, it offers a compact body as well, which enables portability up to an extent.
However, portability doesn't mean it lacks features; it covers all basic features like color-coded threading and a differential feed, making your work a piece of cake.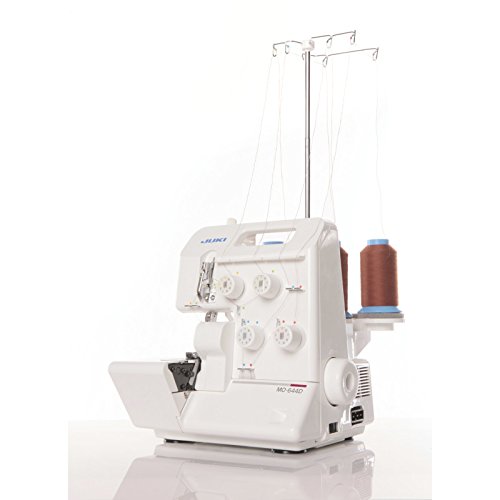 Pros
Dedicated drive mechanism with a powerful knife system
Automatic rolled hem
Adjustable stitch length
Differential feed
Stitching speed 1500 stitches per minute
Portable
Cons
No free-arm stitching
Not for heavy fabrics
7. Juki MO-50E Serger Sewing Machine
Another great product by Juki, which is somewhat more on the professional side is MO-50E.
Having every feature, you need such as adjustable differential feed and built-in rolled hem, it will provide you many additional features as well, which you won't find in many models out there.
With a lay-in tension and automatic lower looper threader, it will give a boost to your productivity and let you swift through your work.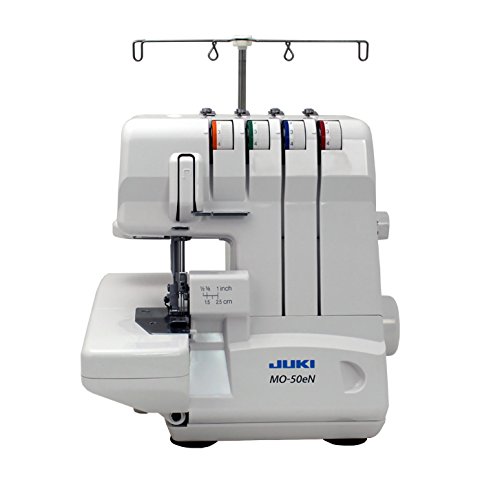 Pros
Built-in rolled hem
Adjustable differential feed
The calibrated knife is adjustable
Affordable
Lightweight
Versatile
Cons
8. Brother DZ1234 Serger Machine
Whenever there is a machine tagged as Brother, you could expect a highly durable construction that will not only last for years but will also be affordable for your pocket.
DZ1234 features a heavy-duty performance that works on the heavier fabrics as well and has all the preliminary features out there.
This is a dream for beginners due to its extremely good results at home.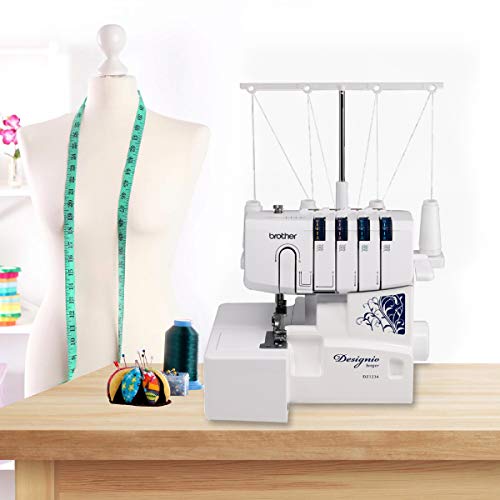 Pros
Many accessories
Portable
Affordable
Durable build
Shade-coded threading
Cons
Works with 120V AC only
Not the easiest to use
9. Singer Stylist 14SH764 Serger Machine
Singer Stylist 14SH764 is one the best serger sewing machine out there, which can be used to add final touching to work done at home by yourself.
You can use up to 6 different stitches along with four unique strings to be all the creative you want.
Not only is this easy to use, but it offers decent speed to let you finish your work along with a good sewing quality.
Pros
Differential feed system
Many accessories provided along
Portable
Adjustable stitch length
Free-arm stitching
Four built-in rolled hems
Cons
Not for thick fabrics
Useless instruction DVD
10. Crafter's Companion Gemini Lock Pro Serger
Although this serger sewing machine is not very much known in the market like the other models listed in our picks, we found it too valuable to be left out of our sight after reviewing.
If not better, it is certainly on the same level as some of the models we saw, and even better from some.
It features 16 stitch settings to choose from, which are more than enough for any beginner, and offers completely adjustable stitch length and width.
Having a lightweight design, it is portable and very durable as well.
The cutting system is one of the best in the market, and there are four types of hems included for use as well.
Pros
3 and 4 thread overlocking
Lightweight
Sturdy build
Four built-in rolled hems
One of the best cutting system
Cons
Could cause thread breaking sometimes
Meant for beginners only
Delivery is not best
11. Brother ST4031HD Serger Machine
Just like every other serger sewing machine from Brother we reviewed previously, this one also offers a heavy-duty metal frame with a very good performance.
Having a decent stitching speed of 1300 stitches per minute, it has easy-to-follow color-coded threading and includes a lot of accessories on board.
Having all these sewing features and durability, it is affordable as well and provides a very good value for your money.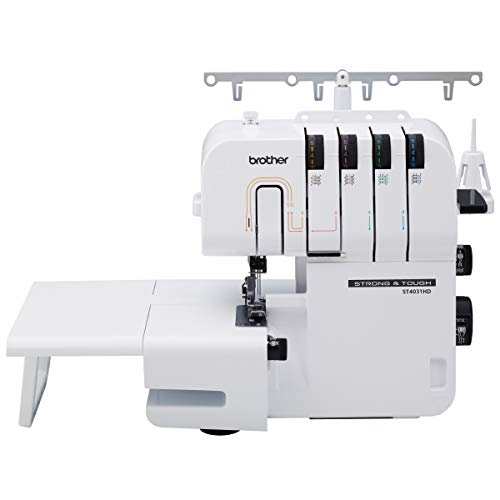 Pros
Durable metal frame
Easy color-coded thread
Many accessories
Very good quality stitching
Affordable
Cons
Inserting multiple fabric layers is hard
Fabric doesn't feed easily
Frequently Asked Questions
There are some questions bound to pop up in your head if you're a beginner, let's answer some of them.
What is the difference between a serger and a sewing machine?
A serger machine is a customized form of a sewing machine that does overlock.
It is also capable of making seams that appear more professional and can utilize multiple threads at the same time, unlike sewing machines that can only handle one.
Can a serger machine replace a sewing machine?
While serger machines are an enhanced form of sewing machines that offer a more professionally finished stitch, they really cannot replace the sewing machine as they cannot be used while sewing buttonholes or zippers.
So, both have their own areas of usage.
When should I use a serger?
A serger machine can be used when you need to add a long-lasting effect to your production, or you want to add a professional touch to your stitched clothes.
How much do sergers cost?
If you want an industrial standard serger machine, you need to be willing to put at least $1500.
However, if you need to have it for home usage but need many features, the above picks are suitable, starting out from around $400.
What is a serger foot?
It is an add-on that is used to hold the fabric flat during its feeding through the machine.
How can I prevent the thread from looping off the edge of the fabric?
Check the tension of lower and upper loopers and make sure the cutting blade is set to the correct width.
Also, you need to make sure it is correctly threaded, and the thread is properly placed.
Conclusion
Serger machines are undoubtedly a great part of sewing as they add a very professional-looking final touch to the seams of your fabrics.
However, they are not always beginner-friendly, so you need to make sure you buy something that is easy to use and understandable.
The above picks ensure you a good quality beginner serger machine that will provide you easy to use features.
Read Also: