Serger sewing machines with coverstitch are not abundant in the market since only the professional people who are into sewing buy dedicated machines for coverstitch.
However, nobody can deny their importance in handling stretchy knits way better than regular sewing machines.
The choice is not so easy based on their rarity; we have done some research for you to find the best serger with coverstitch for you.
Based purely on our personal reviews and customer ratings, these machines are guaranteed to provide the best performance.
Buyer's Guide
Before you move on lock your choice, there are some points you strictly need to consider in order to make the best choice.
Make sure you go through them all to compare models effectively.
Stitching Speed
If you're a beginner, you probably won't need a high stitching speed machine as controlling higher speeds is only something that pros can handle.
Otherwise, it may reduce the quality of your stitching. So, prioritize machines with higher stitching speed only if you're comfortable with them; otherwise, it will just cost you extra money.
Thread Capability
Being able to use multiple threads at a single time is what coverstitch sergers are so good for.
So, make sure the serger you are about to buy is capable of handling many threads at a single time.
More the needles, the easier your work gets. Machines that are able to use 4 or 5 threads at a time are usually considered good.
Threading
Threading the sergers machine with coverstitch is not very easy.
Especially if you're a beginner, it can waste a lot of your time reducing your productivity.
So, investigate the machine and check if it has an effective threading mechanism to save your time.
Stitches
Every coverstitch machine has a different number of stitches it can sew.
It greatly affects the capability of the machine and increases versatility.
There are different types of jobs that you are expected to be doing with your machine, which all would require different types of stitches.
Other Features
In addition to everything listed above, there are a lot of extra features available in a serger with coverstitch as well, which helps you in doing your work more efficiently.
For instance, some machines offer free-arm stitching; some have automatically adjusting tension; both of these are extremely helpful, so prioritize them.
Top 8 Serger With Coverstitch Reviews
After going through some of the most used and famous choices amongst the customers, we have reviewed them in detail and read customer reviews thoroughly to arrive at the top 8 models we found.
1. Juki MO-735 Serger
Juki is one of the best serger sewing machines available for coverstitch on the market.
It's a 5-thread serger machine that comes with a coverstitch 2-3-4 machine features and has a very wide range of stitch options that add versatility to your work.
The 2-thread coverstitch lets you make narrower stitches while the 3 and 4 let you make wider stitches. So, this machine can be easily used according to your needs.
The presser foot is also top quality and is very suitable for dealing with heavier fabrics due to the high lift.
The stitches made on the fabrics are very high quality just like any other Juki sewing machine, and the work you get is top-notch.
You can work effortlessly with 1500 stitches per minute and glide through your work with a very vibration-free high-quality body.
However, one downside is that the machine is not so easy to thread, which makes it kind of less beginner-friendly.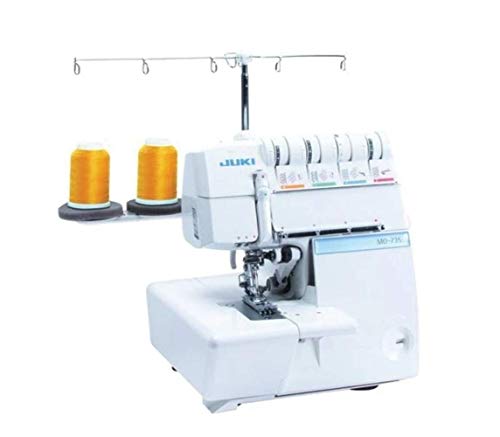 Pros
The vibration-free body; durable build
24 stitch options
High speed of 1500 stitches per minute
Adjustable foot pressure and high lift
Cons
Not easy to thread
Tricky user manual
2. Juki MO-623 Overlock Machine
Juki MO-623 is yet another great product by Juki, which can be conveniently used for high-quality coverstitch.
Offering you a high speed of sewing, you can work as fast as you need to, with a mighty speed of 1500 stitches per minute.
However, it is advised not to use such a high speed as the stitching may go uneven in case the worker is not comfortable or is a beginner.
The stitch length and the cutting width are fully adjustable, so you can work on different projects easily as you like, with a very effective disengageable knife cutting mechanism.
Furthermore, changing the rolled hem is also very easy as you do not need to change the needle plate for it.
Overall, the machine offers a great value for its price and offers a sturdy compact built, which is more than enough for your regular usage.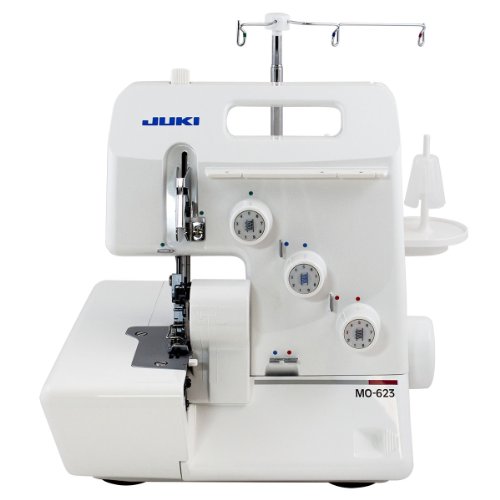 Pros
Affordable
High stitching speed of 1500spm
Very easy to thread
Good quality stitches
Cons
Adjusting the tension is hard
Not suitable for heavy-duty workload
3. SINGER Professional 14T968DC Serger
The singer always makes its way to the top picks whenever it is sewing we are talking about.
This masterpiece from the singer is one of the best choices you have if you want to achieve professional quality work.
The machine offers a wide variety of sewing options, which are perfect for people who want creativity in their work. You can sew edges, seams, folded hems, and a lot of other options.
Working with a decently high speed of 1300 stitches per minute, you can complete your projects very efficiently, in the minimum time possible.
The mechanism used for adjusting thread tensions is great and makes you work very easily. However, you probably won't have to claim it as the machine is quite durable.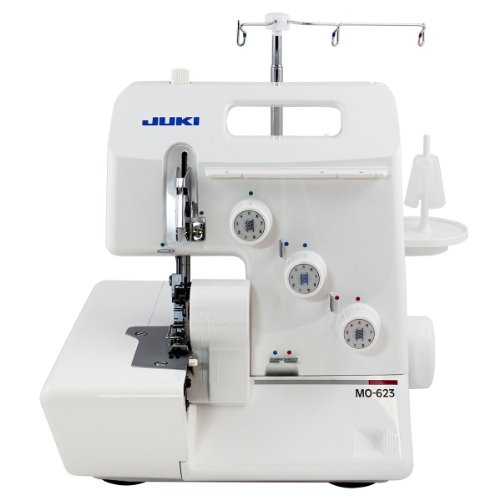 Pros
Easy to use
Many stitching options
Quiet and fast
Automatic tension control
Adjustable stitch length and width
Cons
Auto tension doesn't always work as intended
Threading is hard
4. Singer ProFinish 14CG754 Serger
Another great product by Singer, which not only creates top-quality stitches but is also extremely easy to use even if you are a beginner.
Having all the main features, such as adjustable stitch length and width, you can speed up your work and boost your productivity.
The machine features four built-in hems as well, which make your work further easier.
Free-arm lets you easily stitch around edges are corners such as pockets while the presence of a lot of accessories provides you further assistance.
The product comes with a 2-3-4 threading capability and various stitching options as well.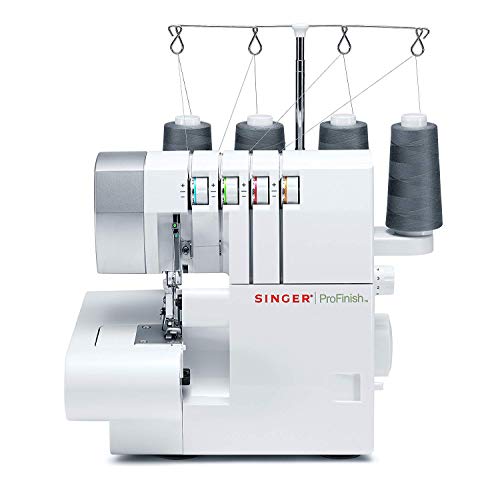 Pros
Adjustable stitch length and width
Portable
Free-arm stitching
Four built-in hems
Many accessories included
Cons
Not for thick clothes
Useless instructions DVD
5. Bernette b48 Funlock Serger Coverstitch Machine
Bernette b48 is known as one of the safest coverstitch machines.
With its blade installed on the lower part of the machine, you don't need to worry about your safety when working.
This product makes a great combination of overlock and coverstitch machine, and successfully makes great quality stitches and neat edges required for professional-looking hems.
Threading, which is the problem with most of the models we saw, is quite easy with this one, as colored thread paths are used, which are quite easy to spot with the naked eye.
You can achieve a high speed of 1300spm, which is fast enough for your home projects, and the presence of an LED makes it suitable for working even in the dark.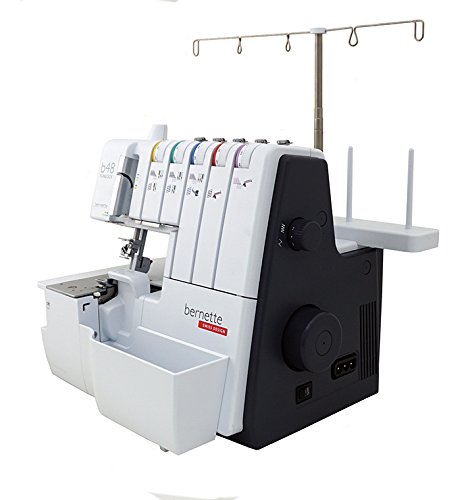 Pros
Built-in LED
Affordable
Spacious field area
Adjustable differential feed
Cons
6. Brother 2340CV Coverstitch Serger
Brother is another top brand that has one of the best sewing machines around. Just like the other machines made by Brother, this serger with coverstitch also comes with a very solid construction, making the machine very durable.
Although the speed of 1100spm is not so great, it is enough for your individual usage and fulfills your needs just fine.
Color-coded threading is available with the product, which makes choosing the colors quite easy and results in high-quality stitching.
Other features, such as adjusting stitch length and width, are also easily controllable through a dial. Lastly, the threading mechanism is also quite effective and saves much of your time.
For making your work further easier, the machine carries along a whole lot of accessories, which makes the machine versatile, and you can achieve a lot of other tasks with it as well.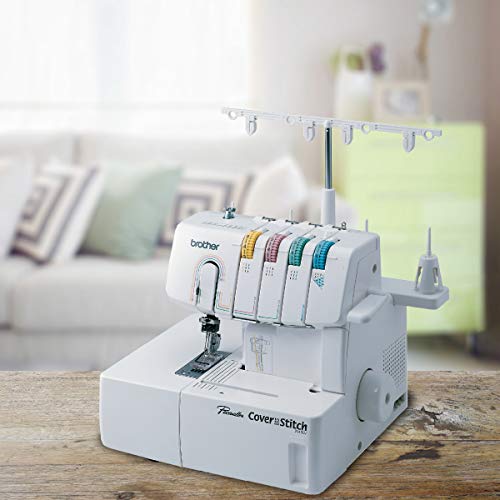 Pros
Features many accessories
Durable, heavy-duty build
Easy to adjust dial for stitch length
Color-coded threading
Wide range of cover stitches
Cons
Instructions provided are difficult to understand
Pressure release is not consistent
7. Brother DZ1234 Serger
Do you need a portable serger with a coverstitch for your individual usage but need the machine to be durable and of high quality?
Well, you might luckily have stumbled upon the best choice you will ever have.
Not only this brother's serger has a high-quality build and durable material, but it is also extremely compact, which makes it easy to carry along whenever you travel or move around.
Talking about the usage, it features shade-coded threading, which makes your work convenient and fast, along with the high quality of cover stitching; the machine really does wonders; however, it is only meant when the workload is not high.
Being extremely easy to thread and having a speed of 1300spm, you can achieve the work of multiple hours in only a few.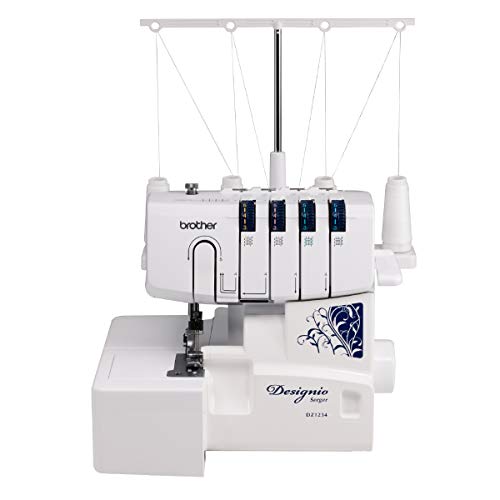 Pros
Easy thread
Affordable
Portable
Includes many accessories
Heavy-duty body
Cons
Works with 120V AC only
Not the easiest to use
8. Janome Cover Pro 1000CPX Coverstitch Machine
How can Janome stay out of talk when we are discussing the elite league of the sewing machine, right?
This machine is one of the most used machines out there and probably the hot favorite as far as cover-stitching is concerned.
Coming with a bundle of accessories, this product has a heavy-duty hem along with an industrial quality cover stitching, which is ideal for commercial usage as well.
There are all the important features such as free-arm stitching available, which make it the perfect choice even if you are not a pro at cover-stitching.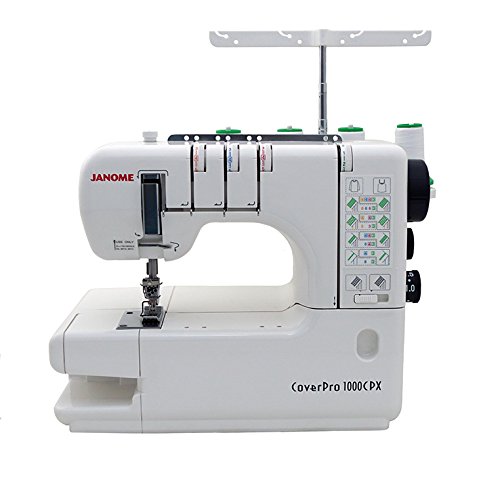 Pros
Portable
Suitable for heavy fabrics
Affordable
Free-arm stitching
Enough field size
Cons
Doesn't work with ordinary needles
Can skip stitches with thick clothes
Frequently Asked Questions
If you are new at using sergers with cover stitch, you are probably going to face some problems in the start in the form of questions appearing in your mind.
Let's see some of these questions:
Can a serger do a Coverstitch?
Yes, not all of them; however, some of the serger sewing machines are capable of doing cover stitch. The usual condition is for them to have at least four threads.
What is the difference between Coverstitch and serger?
A serger machine has a blade while a coverstitch doesn't have one. When we talk about loopers, a coverstitch machine has only a single one, while a serger has two of them.
Other differences are sergers featuring cutting knives, unlike cover stitch machines.
What kind of stitch does a serger make?
Serger machines usually make flatlock stitches. Which are essentially a stitch which joins two pieces of cloth through a flat seam when it's laid.
There is also a 2-thread flatlock, which is quite stretchy when compared to regular stitches.
What is chain stitch hemming?
It is essentially a special type of hemming mostly used on jeans, which perfectly matches the stitches and looks very appealing to the fabrics.
What are the cover stitch machines used for?
They are used for knitting hems and do chain stitching in order to make the fabrics a lot more pleasing to the eyes.
How much do coverstitch machines cost?
This totally depends upon the model and the maker of the machine. The more features you get, the more the price you have to pay.
However, generally, the prices vary from $200 to $1000 depending upon the quality.
Conclusion
Serger machines are not only useful for their primary nature of work but they can also be efficiently used for cover-stitching.
While the choice is not that easy, we have researched and reviewed some of the best serger machines on the market to make a review guide for you.
After going through the complete guide, you will probably arrive at the best machine for you.
Read Also: