The traditionally used method for sewing was with the use of a pin and a thread. This time-consuming and sewing machine in the industrial revolution replaced a problematic way.
Sewing machines are suitable for stitching and designing a piece of clothing or household fabric, but they do not attain an impeccable finish due to a non-neat finish.
A serger sewing machine is an upgraded version of traditional sewing machines, and it promises a beautiful finish with no loose threads and enclosed edges- making the product seamless and classy.
In this article, we will discuss the best serger sewing machines that you will find in the market, but first, let us give you a few tips before making a choice.
Buyer's Guide
A buyer's guide tells you about the important factors that you should be considering while looking for a product.
The necessary considerations for a serger sewing machine are:
Stitch Capacity
Stitch capacity determines how many different stitching patterns you can combine while making an edge of a fabric.
A good stitch needs a combination of several designs to be strong enough.
Generally, sergers with 2-3-4 stitch capacity are more desirable. If you want strong stitches, you should go for a four-stitch serger.
Power
Serger machines usually deal with seams and rolled hems. You need to buy a machine that is powerful enough to cover thick seams and stitch thick fabrics.
You will choose the machine depending upon the strength and thickness of the fabric you are going to work on.
Budget
If you have enough budget, you can go for any machine you like. Your choice might become limited if you have less amount of money.
You might have to repay on a few qualities in that case.
Comfort
Everyone wants a machine that will be easy to use. Whether you are a beginner or a pro, you should look for a machine that is handy and comfortable while using.
Automatic Threading
Some users might prefer automatic threading, which is more comfortable, but jet threading is quicker and easier.
Also, the automated machine might be hard on your budget, too, while jet threading machines are cheaper.
Number of stitches
A good serger sewing machine should offer a large number of stitches. A quality serger also offers curved stitches.
Add-ins
It always comes in handy to have extra features on your sewing machines.
These extra features help in performing routine tasks and in doing complex tasks, which might not be as comfortable with conventional machines.
Take an example of a cover stitch machine. However, these machines are higher in cost as compared with regular machines.
Top 11 Serger Sewing Machines Reviews
In the following text, we will discuss some amazing serger sewing machines available in the market.
Here is our top 11 list which you will find very useful while searching for a certain product:
1. JUKI MO654DE Portable Serger Sewing Machine
This small portable serger is very efficient and versatile. It has a very high stitching speed of 1500 stitches per minute.
The machine delivers a lot of power, making it unable to perform on most of the fabrics. It is very stable and supports 2/3/4 stitches capacity.
It has a maximum stitch length of 4 mm, and the safety mechanism does not allow stitching while the feed is open. It has a convenient color-coded threading guide and a sharp built-in threading knife allowing clean cuts.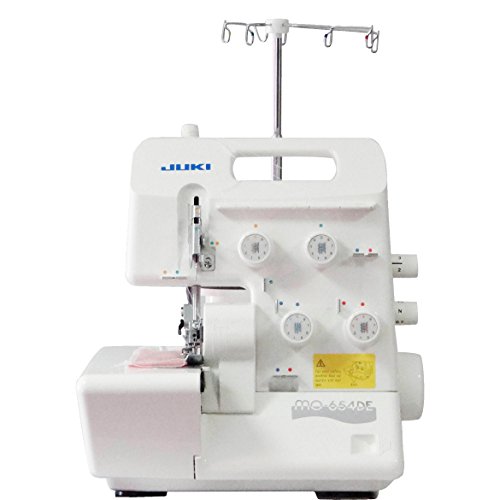 Pros
Portable
Fast action
Smooth operation
Clean cuts
Color-coded threading
Cons
No free arm
No cover stitches
Expensive
2. SINGER 14T968DC Serger Sewing Machine
This is a heavy-duty self-adjusting product with an excellent stitching speed of 1300 stitches per minute and an amazing stitching capacity of up to 5 stitches, making it enable to make strong stitches and durable finish.
It has four built-in rolled hems, which makes the sewing process effortless and versatile.
This machine is perfect for professional users giving a classy sewing experience never felt before.
It has many extra features like a blind hem, six pressure feet, and taping. The machine has a sturdy metal frame and SS coating.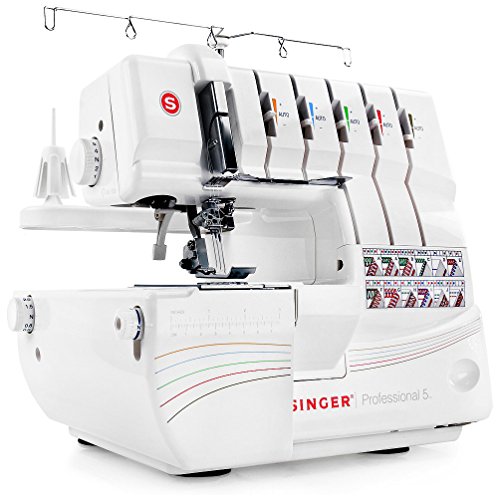 Pros
Versatile
Overlock and cover stitch
Durable
Strong
Automatic
Cons
3. Janome 8002D Serger Sewing Machine
This is a good quality machine that offers a genuine sewing experience. It has a stitching capacity of up to 4 stitches and a stitching speed of 1300 stitches per minute.
It has easy access and is perfect for beginners. It offers easy color-coded threading and comes with built-in rolled hems for an excellent finish.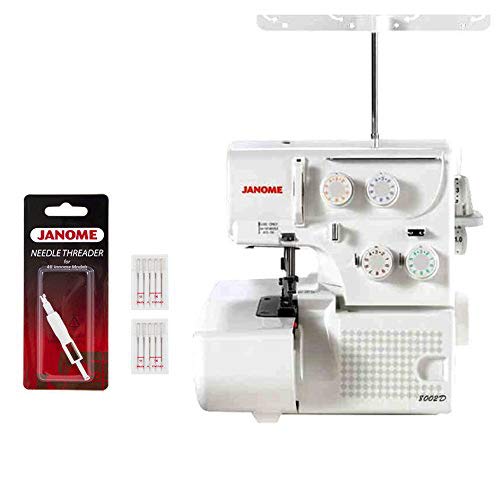 Pros
Easy to use
Re-threading
Strong and neat finish
Cons
No free arm
No cover stitches
4. JUKI MO644D Portable Serger Sewing Machine
This machine is an absolute delight for beginners.
It is very easy to use with smooth features such as 2/3/4 stitching capacity, differential feed, firmly built-in knife, automatic rolled hem, and easy to comprehend color-coded threading.
This machine will make your beginner sewing experience very neat and classy.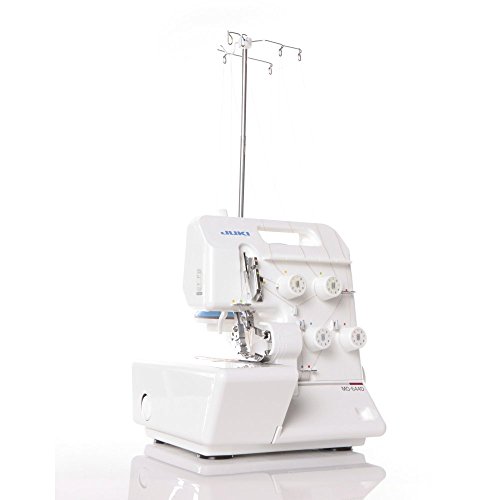 Pros
User Friendly
Strong Stitch
Less noise
Stable
Good with light and medium weight fabric
Cons
Cannot handle tough fabric
Difficult assembling
5. Brother DZ1234 Metal Frame Overlock Machine
This serger has a vast market demand and is a big player. It is highly durable with a sturdy metal frame.
It offers high-performance 3-4 stitching capacity aiding in a neat finish. It is effortless to use and has a 1300 stitches per minute speed.
It comes with starter threads and accessory feet. It also supports color-coded threading, which makes the experience worthwhile.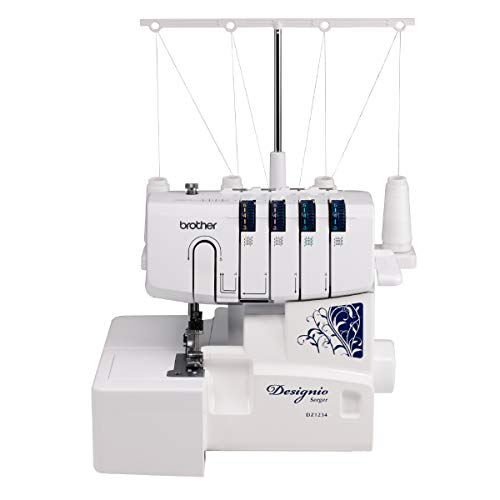 Pros
Easy threading
Robust and durable
Striking add-ins
Cons
Support 120V main AC
Difficult initial setup
6. Brother 1034DX Serger Sewing Machine
It is a small serger machine with a very striking performance. It has a durable metal frame and supports a stitching speed of 1300 stitches per minute.
It has a trim trap, three accessory feet, and a protective cover included. It is effortless to use and has a 3-4 stitches capacity offering a very nice finish.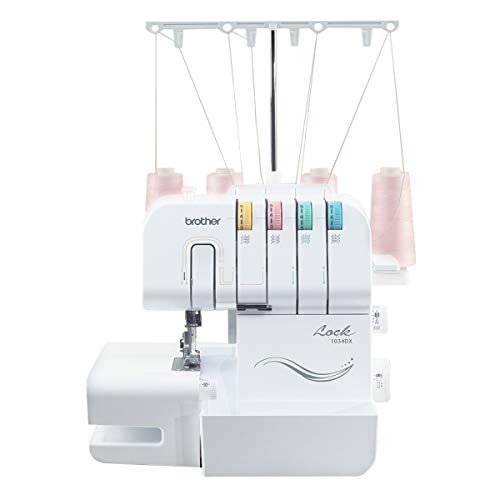 Pros
Durable
Strong
Safe to use
Convenient
Cons
Not very fast
No free arm
7. SINGER 14CG754 Thread Serger Machine
The singer is one of the most celebrated and renowned brands in the sewing industry. This machine from Singer is one of the perfect machines with the best features.
It has adjustable stitch length, free-arm sewing, four built-in rolled hems, and up to 2 3 4 stitching capacity. This is indeed an all-in-one package.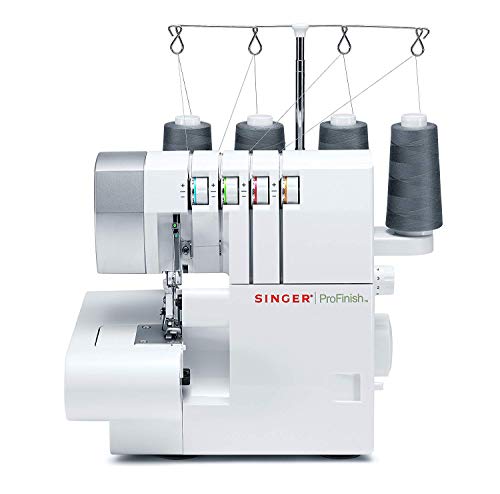 Pros
Portable
Adjustable stitching
Free arm sewing
Add-ins
Cons
Threading is a bit challenging.
8. Brother ST4031HD Serger Sewing Machine
This is a highly durable machine from a well-known brand, Brother. This machine has a metal casing and a very large extension table for comfort.
It gives a stitching speed of 1300 stitches per minute and offers 3-4 stitching capacities.
It has many extra accessories, including three accessory feet, blind stitches, etc., and offer convenient sewing with color-coded threading.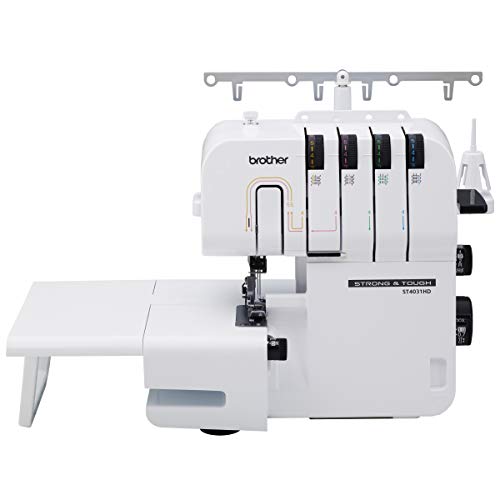 Pros
Strong and durable
Easy to use
Extension table
Convenient
Cons
9. Brother 2340CV Cover stitch Serger Machine
This is yet another masterpiece from BROTHER with a good stitching speed of 1100 stitches per minute and a trims trap.
It has Snap-On pressure feet and offers a cover stitch experience. It has a fast and easy looper threading system and has an adjustable stitch length. It comes with three needles and one looper.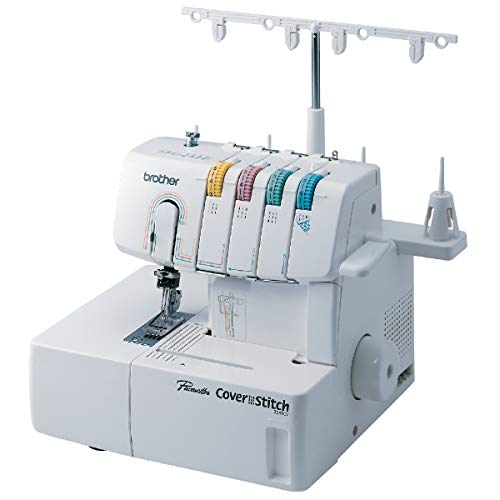 Pros
Easy looper threading
Durable
Good stitching speed
Cons
The plastic T-bar breaks up easily.
10. Juki MO-114D Serger Overlock Machine
This is a masterpiece from Juki and offers a good stitching capacity of 2-3-4 stitches. It has an easy lower loop threader and is stable due to the lay in the tension system.
It also has an adjustable cutting width and comes with a differential feed. It also comes with an adjustable pressure foot and many more features.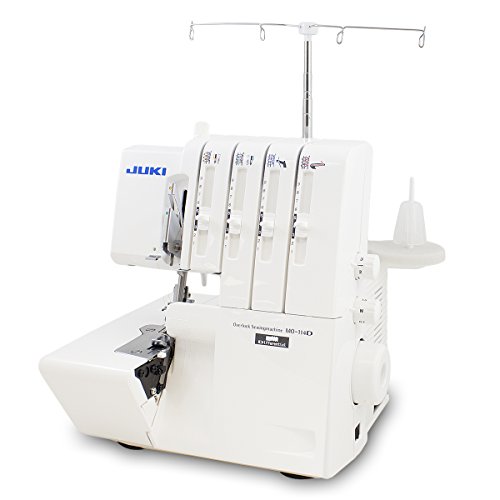 Pros
Convenient looper threading
Good finish
Stable
Adjustable and versatile
Cons
It has no free arm
The machine is not very durable.
11. Brother 1034D Heavy-Duty Serger Sewing Machine
This is a very good-looking and efficient machine from BROTHER. It has a stitching speed of 1300 stitches per minute and comes with a stitching capacity of 3-4 stitches.
It has a striking white appearance and comes with three accessory feet for ease.
It is very versatile, with 22 built-in stitches. It is easy to operate and has an adjustable differential feed.
Pros
Bilingual operation
Convenient and sharp cutting with a strong knife
Bright LCD
Cons
Threading might be challenging for beginners
No free arm
Frequently Asked Questions
Do you need a serger?
The choice depends upon your preferences.
A serger is not important for sewing. It just an advanced version of a traditional sewing machine. It makes the process faster and more efficient.
Serger offers an impeccable finish, which comes in handy in professional work. It also makes the process more versatile with a large number of add-ins.
Can a serger sew a straight stitch?
This depends upon the stitching capacity of the serger. Usually, a 2-stitch capacity is used for a straight stitch by joining two different types of stitch patterns.
The serger will make your stitch more efficient and need to give a sleek finish.
How much does a serger cost?
The cost can vary a great deal depending upon certain factors such as durability, functionality, and versatility.
The basic machines start at around 200 $ prices while it increases with stitch capacity, add-ins, and special features, which makes the process easier.
What is the difference between a serger and an Overlocker?
A serger and an overlocker are different names for the same machine. They are referred to as sergers in America, and others refer to it as an overlocker.
It is called an overlocker as it performs an overlocking stitch offering a neat and sleek finish with no loose threads.
Can a serger do Cover stitch?
Yes, a serger can do the cover stitch. A good serger with a four or more stitch capacity is convertible and can do a cover stitch.
They can also use 1,2 or 3 threads capacity. A cover stitch machine needs to have a looper and not a blade.
What is the difference between a serger and a regular sewing machine?
A serger is an upgraded version of a regular sewing machine. A regular sewing machine only sews the fabric, and the finish is not neat due to loose threads.
A serger cuts the fabric, also providing a neat finish with no loose threads. It also covers the seams with a locking function.
Do all Sergers cut fabric?
Yes, all sergers cut fabrics. They cut the fabric before sewing to achieve a nice and neat finish.
It is the major difference between sergers and regular sewing machines.
Can you do normal sewing on an Overlocker?
You do not need to do normal sewing if you have an overlocker. An overlocker gives more clean and tight stitching as compared to a normal sewing machine.
What kind of stitch does a serger make?
A serger makes several different types of stitches depending upon various factors.
A flatlock is made by a 2- thread stitching capacity, whereas a cover stitch is done by four or more. It can also perform straight or curved stitches.
Conclusion
We hope that we have given enough information which is going to help you a great deal in your selection of a serger sewing machine.
The choice should be made after extensive reviewing and reading the buyer's guide with full attention.
You should go for a machine with your expertise and liking. You also must consider the available budget for the machine. This will affect the quality and features of the machine.
It's time that you make another upgrade in life by getting a good quality serger and make the sewing experience efficient and fast. We wish you, Goodluck!
Read Also: