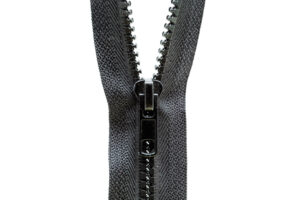 If you're also one of the beginner sewers, you must be intimidated by the name "Zippers," well, it's not that scary as it sounds, and dealing with them is straightforward, even for beginners.
So, if you're also interested in Zippers and their different types, make sure you go through this article till the end. I will be explaining what Zippers exactly is and the 15 most common types they are available in.
So, let's start without any further ado.
What's a Zipper?
A zipper is nothing fancy but a fastening machine, which plays a very important role in binding the edges in clothes.
No matter what fabric you're dealing with, be it a bag, an upper, or a mere shirt, a zipper is something really important mechanical thing playing a pivotal role.
With this said, how do you choose the perfect zipper for your needs?
Well, this is the real question, and since there are a lot of options available, you need to have knowledge about different types to choose the most appropriate one.
Let's see the top 15 most common types of Zippers you could choose from.
1. Separating Zipper
This is one of the most common types of the zipper and is often seen in everyday jackets and uppers we wear.
It consists of two open ends, having a slider in the middle.
When this slider moves down, it closes the area, causing both the ends to join together and vice versa.
If you're designing something which needs to be both open and closed at times, this kind of zipper is the most appropriate choice to use.
2. Closed-end Zipper
Another very commonly found zipper is this closed-end zipper.
This is very much like the separating zipper, but the only difference is that this design does not separate even at the very end. Other than that, the design is pretty much the same.
3. Continuous zipper chain
If you're looking for a very long zipper chain, say 200 inches, this is the kind you could go for.
It is available in such a long length, but you can cut out any length you want, mostly long ones.
These are not used for garments and are used at places where long length is needed, such as tents, cushions, bags, and so on.
4. Two Way Separating Zipper
These are the zipper which can be opened from both ends.
There are two zippers installed on the fabric, and whichever one you pull, it will start to unwind the zipper, opening the joint.
These are also found on jackets as well as bags.
5. Metal Teeth Zipper
Metal teeth zippers are nothing but the zipper which comes in a metal building. They are very much like closed-end zippers but have a very shiny and fancy finishing, which makes them look quite high-end.
They are mostly used in jeans and are used to join heavy fabrics.
6. Nylon Coil Zipper
Nylon coil zippers are probably the most lightweight zippers available in the market, and you can use them to join any lightweight fabrics where not a lot of strength is needed.
They are available as both closed-end zippers as well as two-way separating ones.
7. Molded Plastic Zipper
Like the metal teeth zippers, these are quite exquisite in looks and are mostly used on high-end clothes such as jackets.
Being very stylish in looks, they are also heatproof lightweight, unlike the metal zippers.
8. Invisible Zipper
Ever wondered how some fabrics are bound, but there is nothing visible between them that could have done the job? Well, that's invisible zippers on their job, and they are made this way – to be invisible while they work!
9. Bag Zipper
Bag zippers are nothing but coil zipper which equip a non-lock slider. They cannot be separated at the bottom, though.
10. Water Repellant Zipper
If you're looking to install a zipper on your tent or any outdoor appliance, this is undoubtedly the best type. They can go through any weather easily and are very convenient.
11. Centered Zipper
This is a unique zipper and is permanently stitched to a seam in the middle of a fabric. The good thing is that you don't need any extra fabric as well!
12. Fly Zipper
These are the zippers used to cover any opening while keeping them concealed. If you want zippers for your pants, these are the ones to go with.
13. Lapped Zipper
Lapped zippers are very technical, and when they are installed, they are covered with fabric using very tricky sewing. They are used as side or center back opening on different outfits.
14. Exposed Zipper
Want to show off the zipper? Look no further. These are the kind where the zippers are exposed on purpose and kind of boasting. They are good-looking and add to the aesthetics of fabric.
15. Pant Zipper
Short nylon coil zippers, when used on a small piece of clothes such as blouses or skirts, are referred to as pant zippers. They typically have a stopper at the end, which keeps them from getting separated.
Conclusion
Zippers are very important equipment for sewing, and every sewer should be comfortable using them, given the important part of binding clothes they play.
In the article, we have seen in detail what a zipper is and some of the most common types of zippers, and the areas where they could be used.
So, make sure you give it a thorough read if you want to know all about zippers.
Read Also: