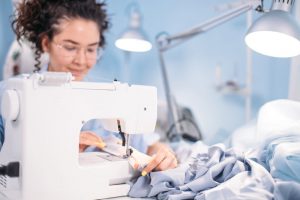 Faux fur is a thick material. It is unable to sew it with a normal sewing machine. You will need a heavy-duty machine to sew faux fur.
There are a lot of options in the market, but in this article, I will only tell you some of the best sewing machines for faux fur.
Sewing faux fur is no easy task. You can only sew it with a heavy-duty and durable sewing machine.
Top 4 Sewing Machines For Faux Fur Reviews
I have handpicked some of the best sewing machines. You will not regret any of these. Let's hop on to the reviews now.
1. Brother CS7000i Sewing Machine For Faux Fur
This machine by Brother is for both sewing and quilting. You get 70 unique and different stitching styles with this sewing machine.
You get utility stitches, quilting, heirloom stitches, decorative stitches, auto-size buttonhole stitches, and much more. Its automatic needle threader makes it very easy to pass the thread through the needle without putting strain on your eye.
This sewing machine comes with a hard protective case, wide table, ten sewing feet, instruction manual, and much more!
Its LED display makes it very easy for you to select the stitching style. Moreover, you get free technical support with this sewing machine.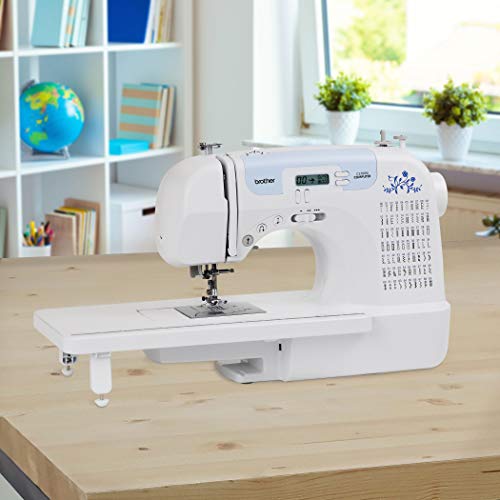 Pros
LED screen
Automatic needle threader
Durable
Jam resistant drop-in top bobbin
Beginner-friendly
Cons
Thread gets tangled
May jam
2. SINGER Simple 3232 Sewing Machine
In this sewing machine, you get 32 different types of stitching.
This machine features a built-in one-step buttonhole.
Its heavy-duty metal frame makes it very easy to stitch thick and thin materials. Its automatic needle threader puts the thread within seconds.
This sewing machine is made up of metal and plastic. The speed of this machine is 750 stitches per minute. This speed is ideal for both small and large projects.
This machine can sew several layers of thick material. You can place the presser foot higher for an easy approach. What I love about this machine is its reverse button.
The reverse button is used to sew in reverse and to reinforce the previous stitch.
This machine is made in the USA.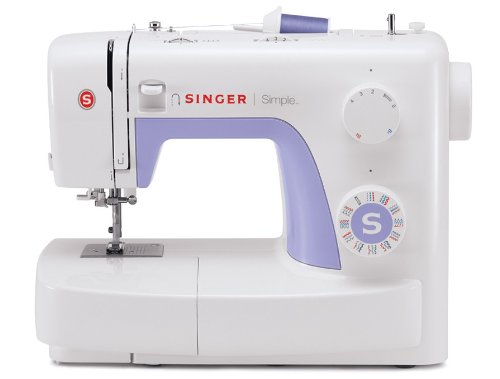 Pros
Easy to use
750 stitches per minute
Ideal for faux fur
High presser foot lifter
Cons
Unclear instructions
May jam
3. Brother HC1850 Sewing and Quilting Machine
Next up, we have this sewing machine that is perfect for both sewing and quilting. This machine has 185 different stitches.
This machine features an LED display from which you can select your desired type of stitch. You can stitch a wide variety of things with this sewing machine.
It can sew heavy materials such as sailcloth, denim, heavy faux fur, upholstery fabric, etc. The weight of this machine is around 10.14 pounds.
It is made up of high-quality metal. With this machine, you also get free technical support. Let's have a look at what I like and do not like about this machine.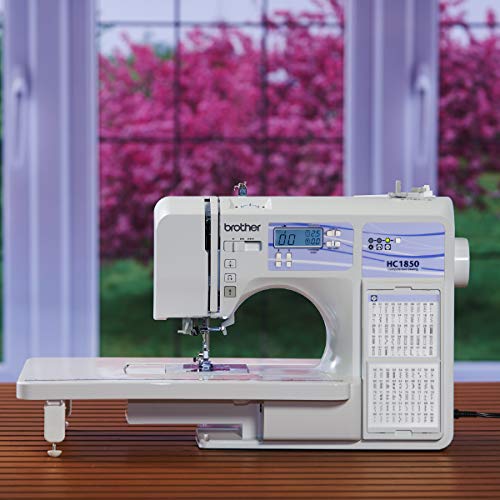 Pros
LED Display
Easy to use
User friendly
185 built-in stitches
Cons
May skip stitches
Not very powerful
4. SINGER 4423 Sewing Machine
Now, when it comes to sewing Singer is a very well-known and popular brand due to its exceptional quality.
The Singer 4423 is a very elegant-looking machine with a classic grey color.
It has 23 built-in stitches that include basic, decorative, buttonhole, and stretch, which allows you to stitch a variety of objects such as home décor, crafts, quilts, etc.
This machine has a very high speed of stitching which allows 1100 switches per minute.
Its structure and body are considered very heavy-duty, which has a powerful motor, inferior metal frame, and stainless steel bed-frame.
You can stitch a wide variety of things with this sewing machine.
This sewing machine comes with the all-purpose foot, zipper foot, button sewing foot, buttonhole foot, seam ripper or lint brush, quilting guide, needles, screwdriver, bobbins, auxiliary spool pin, spool pin felt, and a soft-sided dust cover.
And to top all of this, it also comes with a 25-year warranty.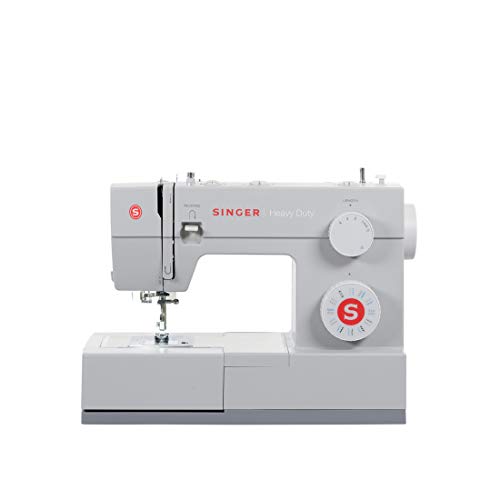 Pros
Well-made
Reasonable price
Great for beginners
Versatile
Cons
Very noisy
Hard to control foot pedal speed
Buyer's Guide
Durable
The machine that you select should be very durable. Faux fur is a thick material that requires a durable and heavy-duty machine.
Make sure to do your research before selecting a sewing machine.
Versatile
Go for a machine that can sew multiple types of fabrics, as you will have to stitch more than one type of fabric.
I have tried to mention all the machines that are not only for faux fur but for other materials too. Choose wisely.
Frequently Asked Questions
Is faux fur easy to sew?
Faux is neither too hard to stitch nor too easy to switch. You will require a lot of practice to sew faux fur too.
How do I keep my faux fur from shedding?
Gently brush your faux fur from time to time.
How do you clean faux fur?
Turn it inside out and then put it in the machine in order to thoroughly clean it.
How do you finish the edges of faux fur?
Use a lighter machine pressure and shorter stitch length.
Can you sew faux fur on a sewing machine?
Yes, you absolutely can.
Conclusion
I hope that this article made choosing a sewing machine easier for you. Make sure to read the buyer's guide and FAQs before buying a sewing machine. Best of luck! Bye for now!!