Sewing and embroidery work can become cumbersome if things are not arranged. Good arrangements to keep your threads in order can become possible by the best sewing thread racks.
There are many products in the market, and this can make you even more confused.
But, going through this article will surely help you choose the best option for your sewing works. Without any ado, let's dive deeper into it!
 Top 7 Sewing Thread Racks
Out of the large number of products that come in different features and at different ranges of prices, I have brought you the sifted ones to help you choose better. Following is my list of the best sewing thread racks that you can get this year.
1. New Brothread 60 Spools Wooden Thread Rack
Let's get it on with my first choice that is great for small spools like; 1.4-inch spindles.
To achieve great results, these racks help as they keep your threads organized, and also, you have the space for 60 spools that is quite amazing.
Let's get to know more about it! The rack can be placed according to your desire, either mounted on the wall or standing freely. It is the best option for your mini king spools and cones.
If you are concerned about its construction, then don't worry; it is made up of the finest natural wood, and the finishing is awesome. If you want to paint it, you can DIY it! What else could you ask for?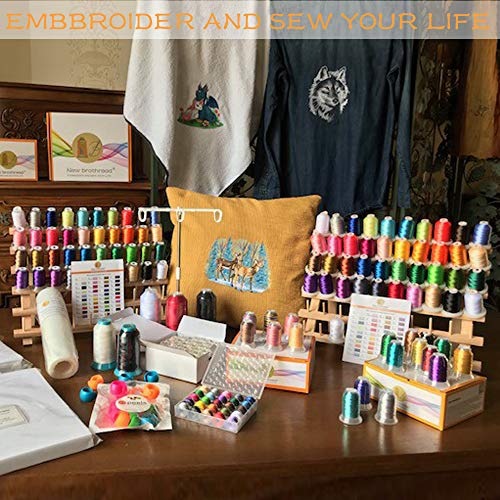 Pros
Greater space
Dual setting (wall or standing)
Great material
Cons
Limited sized spindles
For mini-jobs
2. HAITRAL 60-Spool Thread Rack
My follow-up product is the HAITRAL 60-spool thread rack with similar features to that of the first product, but the spindle size is slightly greater.
This product offers you 60-spools to cover your color-and-type range of threads and make the sewing experience organized and better.
The rack is made of premium quality beech wood to impart strength, make it durable and long-lasting. The compatibility is wide enough to place other stuff like jewelry, glass bead, etc. You can even paint it as well according to your desire. Hence, it is also a good option for small spools.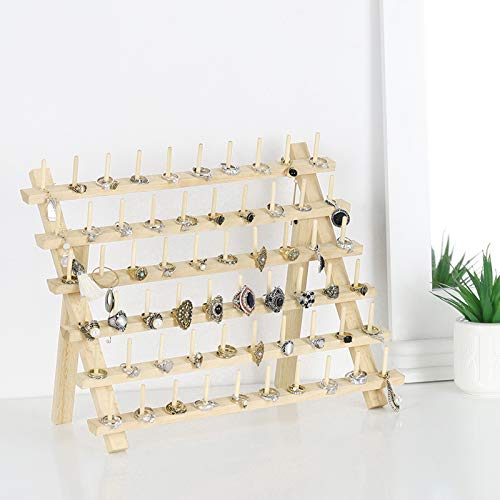 Pros
High compatibility
Sturdy construction
DIY painting
Cons 
Small spools only
For small jobs
3. US Art Supply Premium Beechwood 120-Spool Rack
More is always good. This is the rack for you if you want more! In what terms? Spools man!
This provides a greater range of spools if you have more to place on. The rack is made of premium quality beechwood that makes sure of its long-lasting service and durability.
The rack can be painted according to your choice. I mean, if your wall color is blue, then to match the rack as well, you can paint it blue. Painting is DIY and easy, so don't worry.
You can place a variety of stuff over the spindles to enhance the fun. Lastly, you can either hang it on the wall or make it standing!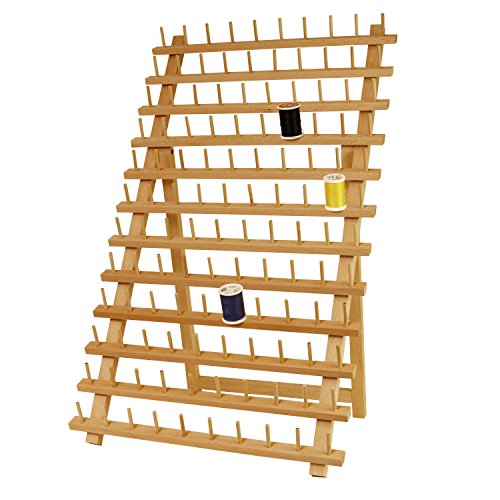 Pros 
More range
Great construction
Different settings option
Cons
Finishing required
Small spindles
4. Hardwood 120 Spool Thread Rack
Here comes another sturdy and nice thread rack constructed very well out of hardwood.
It has a good number of spindles to carry your cones, spools, and other items. This rack can also be used as free-standing or wall mounting. Just use two nails and hang it anywhere.
Moreover, you are free to paint it according to your décor demand. So, that's pretty good! But remember, the spindles fit mini king cones only. So, buy accordingly. Otherwise, for smaller jobs, this is a great choice.
Pros
Hardwood makes it durable.
More setting options
DIY painting
Cons
Smaller jobs only
Mini king cons only
5. Embroidex 60 Spool Cone Thread Rack
If you are in pursuit of some professional non-wood rack for your spools and cons that has larger spindles on it, then you should pay some attention here.
The rack is made up of plastic to add durability to it. Moreover, the setup is very easy, and you can DIY. There is no need to paint it as it is plastic, but I guess it depends on your choice as well.
Once you assemble it, the rest is pretty easy as well.
I mean, you can easily stack your desired cons, spools, and stuff on it. Thus, this product makes life even easier and covers a good range of your belongings to place on.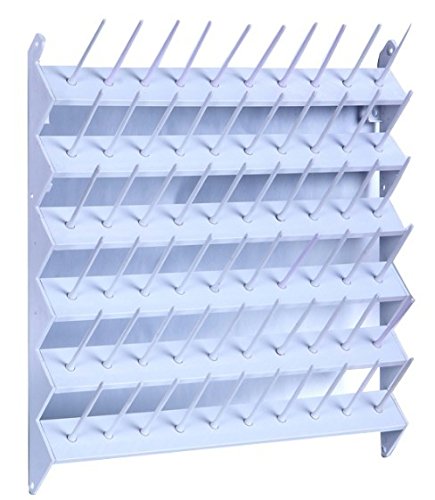 Pros 
Plastic for durability
Larger spindles
Easy stacking
Cons
An assembling guide should be there.
Not a choice for wood lovers
6. HAITRAL 32 Spool Sewing Thread Rack
We talked about wood and plastic, but some people prefer metal.
So, this product is for those who want a rack made up of metal. The size is amazing; though the capacity is lowest so far, the spindles are larger to cover a good size range of spools and cons.
The metal used t make the rack is of superior quality to make sure durability and robustness.
There are built-in holes on it to make it ready to mount on the wall. So, to cover your needs and add a new decoration piece to your house, this is a great choice.
You can hang anything you want on it that goes on it. So, buy this amazing rack to make your purpose delightful.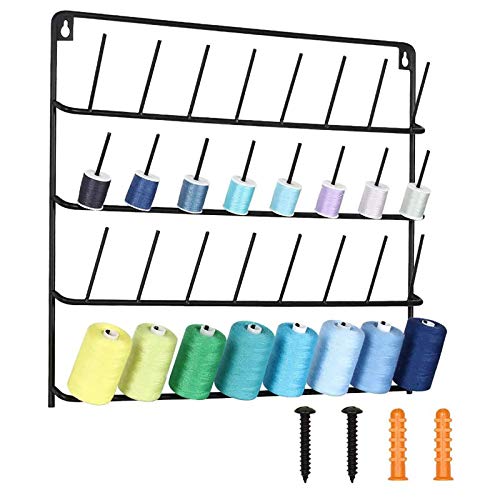 Pros
Sturdy construction
Good quality metal
Larger spindles
Wall mount facility
Cons 
7. Sew Tech Thread Rack for 60 Spools or 30 Cons
Last but not least, Sew Tech offers this amazing plastic body rack that seems quite stable and sturdy in terms of design.
The spindles are of a larger length to offer professional experience. The good part is that it also qualifies for customized settings, like mounting on the wall or making it stand.
This will surely add value to your room/area place because it is finely finished made of great quality plastic. So, what is necessary is inside of it. The design is stable to hold your belongings well.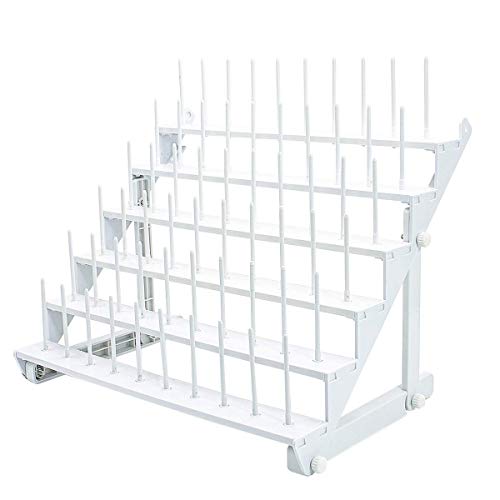 Pros 
Sturdy plastic construction
Larger spindles
Stable design
Multi-functional rack
Cons 
Not a choice for wood lovers
Buyer's Guide
If you are a beginner, then you should go through the buyer's guide to get to know more about the product. It will surely make it easy for you to make the final call. Let's look at the aspects!
Spools
The first thing to make sure about is the number of spools or cons you want to stack on it. Because these products come in different ranges. So, first, realize your need and then choose.
Spindle Size
The spindle size is important. It depicts the scope of your work. Mostly for professional purposes, you would need larger spindles to carry bigger spools and cons. At the same time, there are mini king sizes for casual use.
Material
The material is important. It defines your taste and also bases on environmental conditions. Because in some areas, wood won't be a good choice, in some others; meta, and somewhere plastic. So, choose accordingly.
Settings
The customizable settings are a good option. They help you set your rack as you like it. You can either place it standing or mount it on the wall. So, look for dual functionality.
Frequently Asked Questions
What is the best brand of sewing thread?
The best brand for sewing thread seems to be Coats & Clark. Their dual-duty general-purpose thread set is an amazing choice.
How do you hang a thread rack?
There are loops/holes available on the rack. You have to insert two nails in the wall, and you can hang your thread rack.
Make sure that the nails are sturdy and you nailed them properly so that it doesn't fall off.
What is the best way to store thread?
The best way to store a thread, in my view, is by stacking it over a thread rack. It will keep it organized, and you can use it whenever you want.
What is the most durable thread?
Nylon is one of the strongest threads available in the market. There are types of nylon as well. So, you can use it according to your need.
Conclusion
I have mentioned the best racks available in the market, along with my reviews on them. I hope that the buyer's guide would also be helpful for you in choosing the right product.
I would say that you should go for what you are comfortable with. Now, the rest is up to you. I wish you very good luck in the purchasing phase.
Have a good day!