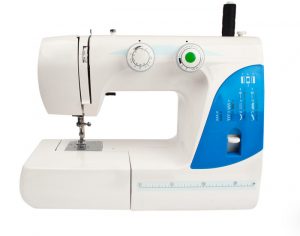 As we all are aware, a sewing machine is a machine that is generally used to sew clothes or even other materials with the help of thread.
Sewing can also be done with the help of a hand, but that takes a lot of time; hence man invented the sewing machine to save time.
The working of a sewing machine is quite complex as it consists of drive shafts, belts, cranks which help the motor to produce a synchronized needle and two threads.
Let's not dig too deep into its working because it is quite complicated, and I do not intend to bore you.
When it comes to sewing a canvas, you can do it by hand too, but that would take a lot of effort and time; hence I would recommend you to go for a heavy-duty sewing machine.
Now I am going to list some of the best sewing machines for canvas with their descriptions, pros, and cons.
Top Sewing Machine for Canvas Reviews
To help you choose a sewing machine that is value for money, I've done a thorough research and listed out my top recommendations.
So without further ado, let's get started.
1. Singer 4423 Sewing Machine
Now, when it comes to sewing Singer is a very well-known and popular brand due to its exceptional quality. The Singer 4423 is a very elegant-looking machine with a classic grey color.
It has 23 built-in stitches that include basic, decorative, buttonhole, and stretch, which allows you to stitch a variety of objects such as home décor, crafts, quilts, etc.
This machine has a very high speed of stitching which allows 1100 switches per minute.
Its structure and body are considered very heavy-duty, which has a powerful motor, inferior metal frame, and stainless steel bed-frame.
You can stitch a wide variety of things with this sewing machine.
This sewing machine comes with the all-purpose foot, zipper foot, button sewing foot, buttonhole foot, seam ripper or lint brush, quilting guide, needles, screwdriver, bobbins, auxiliary spool pin, spool pin felt, and a soft-sided dust cover.
Pros
Well-made
Reasonable price
Great for beginners
Versatile
Cons
Very noisy
Hard to control foot pedal speed
2. Sailrite Heavy-Duty Walking Foot Sewing Machine
Next up, we have the Sailrite Ultrafeed LSZ-1 Includes the power plus balance wheel, which offers two times more power and size than a normal flywheel.
It can sew heavy materials such as sailcloth, denim, heavy canvas, upholstery fabric, etc. it can sew up to 10 layers of a canvas, whereas eight layers of Dacron.
The post-pin clutching system provides 100 percent power transfer to the needle from the balance wheel.
This machine includes an extra-wide presser foot, a built-in pippin tunnel, and a high foot lift (3/8 inches).
Pros
Sturdy
Ideal for heavy-duty sewing
The exceptional power of machine
Versatile
Cons
3. Juki HZL-F600 Computerized Sewing and Quilting Machine
Next up is the very modern computerized sewing machine by Juki.
This machine has box feed technology and is used to sew a large variety of patterns and stitches. This computerized sewing machine is made up of heavy-duty but lightweight material. How cool?
This machine provides a very wide sewing space (8″ wide x 12-1/4″ long) and free-motion sewing.
It has the most stunning white color. It is made up of metal and weighs 33.4 pounds.
The dimensions of this machine are 14 x 23 x 16 inches (L X W X H). It also has 2 LED Lights which is unique for a sewing machine.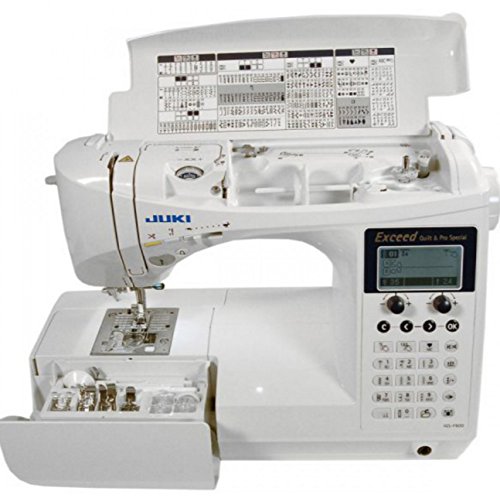 Pros
Easy to use
Easy to setup
Great for canvas stitching
Free motion foot
Precise stitching
Cons
Thread tension is weak.
Bobbin's case catches the thread.
4. Janome HD3000 Heavy-Duty Sewing Machine
Next up, we have the Janome heavy-duty machine, which comes with a zipper foot, ultra glide foot, blind hem foot, overedge foot, rolled hem foot, hard case, buttonhole foot, leather, and universal needles, large and small screwdriver, large and small spool holder, lint brush, seam ripper, additional spool pin, bobbin, quilter bar, felt, foot control or power cord, warranty card, and instructional manual.
This machine has an automatic needle threader which means no more straining! Another feature is that this machine's bobbin pin is jam-proof.
Therefore, you can stitch for a long time without any tension.
It also offers an easy stitch selection. You have to turn the stitch selection dial to the desired design. The foot presser's pressure is adjustable.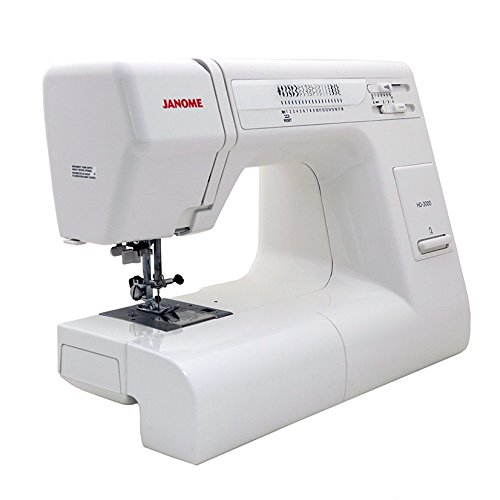 Pros
Heavy-duty
User-friendly
Smooth sewing
It does not make noise.
Cons
The foot pedal cord is short.
Will not stitch multiple layers.
5. REX Portable Walking-Foot Sewing Machine
This machine is made up of full cast iron.
It is considered ideal for leather, canvas material, and jeans. The recommended thread for this machine is nylon #69, as the needle size is 22 (135 x 17).
There is no chance for you to get a defective piece as every REX Portable Walking-Foot Sewing Machine is tested and shipped with a sewn leather sample.
It is known for multiple sewing layers of upholstery material. Its speed is neither too slow nor too fast. Users refer to the speed as "comfortable speed."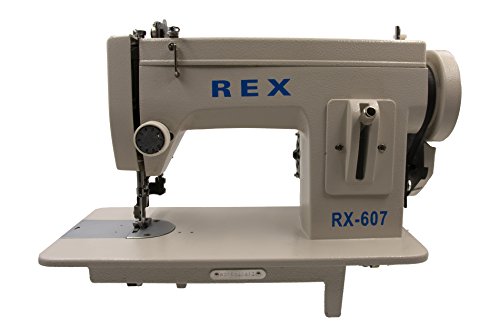 Pros
Can stitch multiple layers
Ideal for canvas
Great value for the price
Durable
Cons
Not for home sewing
Difficult to set-up
6. Consew Upholstery Walking Foot Industrial Sewing Machine
This machine by Consew has a beautiful and sleek white body.
It comes with a table, servo motor drop feed, needle feed, and walking foot. It is delivered in 3 separate boxes (unassembled).
It is considered best for furniture upholstery, leather, marine, and canvas work.
It includes an oil pump system. The dimensions of this sewing machine are 48 x 24 x 36 inches, and it weighs 185 pounds. It is designed for stitching thick materials.
It has the most exceptional price for the quality.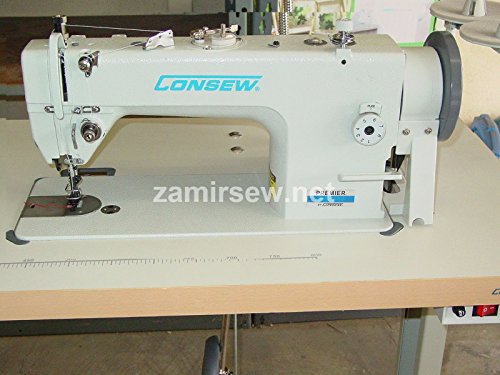 Pros
Great value for the price
Strong body
Ideal for upholstery work
Easy to assemble
Cons
The average quality of bobbins
May skip stitches
7. JUKI TL-2000Qi Sewing and Quilting Machine
When it comes to sewing and stitching, nobody is unfamiliar with the brand "Juki" as their products are reliable, sturdy, and strong.
The JUKI TL-2000Qi Sewing and Quilting Machine are one of the best machines by Juki. It has the classic white color and is made up of aluminum.
It has LED lights and one pedal operation. It is ideal for quilting and home décor as it has 1500 SPM. It also offers an automatic needle threader to reduce your eye strain.
An extension table is included for a wide work area. It has a bed for low vibration and an aluminum die-cast arm.
Pros
Heavy-duty
Worth the price
Good quality
Easy to use
Cons
The average quality of bobbin
 Expensive
Buyer's Guide
Investment
Buying a sewing machine is an investment.
Therefore, choose wisely and do not go for cheap and catchy deals because most of the time, they are a waste of money. You should know what qualities you want in your machine.
Heavy-Duty
It would help if you chose a machine that is heavy-duty as sewing a canvas is not a child's play.
It should be capable of stitching through thick materials like canvas. Consider buying from a known brand as they do not disappoint their buyers often.
Budget
I know I said buying a sewing machine is an investment but consider your budget too.
Look for a decent-priced machine with nice features. Do not go for an overly priced sewing machine.
Especially if you are a beginner, please do not waste your money on an expensive and fancy machine.
Strong structure
Look for a machine that is strongly made. It should be tough enough for all types of materials. Hence a strong structure matters a lot.
Versatile
Go for a machine that can sew multiple types of fabrics as you will have to stitch more than one type of fabric.
Frequently Asked Questions
Will a standard sewing machine sew canvas?
Yes, using a standard sewing machine is fine only if you sew canvas once in a blue moon. If you have to sew canvas regularly, then a standard sewing machine won't be the best option.
What needle should I use for canvas?
Heavier fabrics need larger needles. You will require a needle according to your canvas. Generally, canvas uses 100/16, 110/18, or 120/20 sized needles.
How do you sew a heavy canvas?
You will require practice for that. Some key points are to adjust the foot pressure, use the right size of the needle, use heavy-duty thread, etc. Watch a youtube video if you still can't figure it out!
Conclusion
I have tried my level to review sewing machines for canvas.
Please read the buyer's guide if you are still confused and unable to make your final decision. Happy shopping and good luck finding the right one!