A bobbin case is one of the most important parts of the sewing machine. It is small in size. It's working, and the structure is a bit complex.
Most people have to replace their bobbin cases because the lock stops working or the fabric gets stuck in them.
Well, you do not need to worry now as I have some of the best bobbin cases for a sewing machine with me. These durable bobbin cases will last you for a long time.
Top 6 Sewing Machine Bobbin Cases
Here, I have handpicked some of the top bobbin cases. Let's have a look at their reviews, shall we?
1. SINGER Spare Bobbin Case for Sewing Machines
If we are talking about sewing machines or even their parts, it is nearly impossible that this name does not show up.
Bobbin cases are a part of sewing machines; some special sewing machines can also use a spare bobbin case. These bobbin cases are in a carded blister pack.
These are ideal to use in machines with 15 front-loading bobbin systems.
A full video tutorial is also given by the SINGER Company to help you understand better.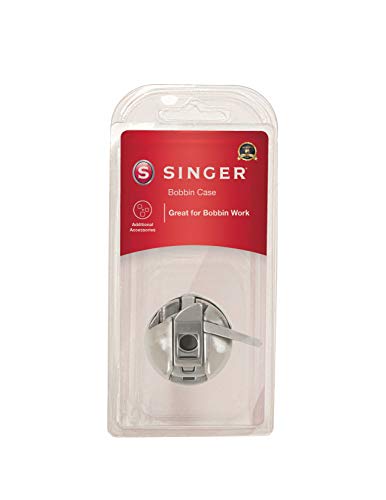 Pros
Sturdy
Good quality
Easy to use
Ideal for SINGER sewing machines
Cons
May not fit sewing machines other than SINGER
2. Juki Original Sewing Machine Bobbin Case
This bobbin case is made in Japan. It is known for its good quality and durability.
Juki never compromises on its quality. Their bobbin case or any other item for that matter comes in sealed with Juki Bags and bar codes.
They are best for beginners and all of the newbies out there.
Pros
Excellent quality
Works flawlessly
Perfect fit for many sewing machines
Durable
Cons
Will not accommodate 12 mm width
3. Mudder Store Stainless Steel Sewing Machine Bobbin Case
When you order this bobbin case, you will receive four pieces of bobbin cases.
You can use the one which suits your machine and save the others for later use or even share them. This can be applied as a replacement part and a spare part too.
These bobbin cases work at a normal speed which prevents the thread from getting stuck in it. The diameter of the bobbin case is 22.75 mm.
It is made up of stainless steel, which will last you for a long time.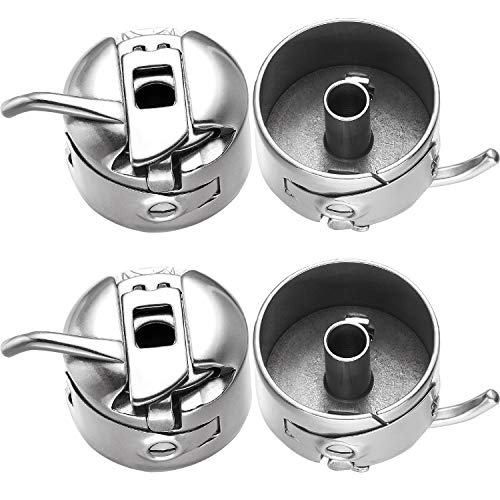 Pros
Practical
Four pieces
Ideal for many sewing machines
Prevents tangling of threads
Cons
Not very smooth
Average quality
4. YEQIN Sewing Machine Bobbin Case
Next up, we have the YEQIN Sewing Machine Bobbin Case.
Their bobbin case is guaranteed to fit in Singer Sewing Machines (Model 2010). These professional bobbin cases are best for daily use.
They have a very unique and different style from the traditional bobbin cases.
Their weight is only 0.32 ounces. These bobbin cases are loved by their users. They swear by it!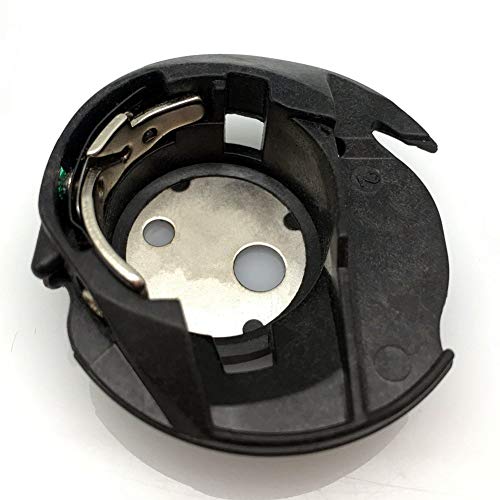 Pros
Budget-friendly
Works perfectly
It fits in Singer machines
Cons
Breaks easily
Made up of plastic
5. PAXCOO Store Plastic Bobbin Cases
You get 25 pieces of transparent plastic bobbin cases that are more than enough for daily use or professional use too.
They have the standard size, which is ideal for most sewing machines by a brother, singer, Janome, babylock, and more.
This is also perfect for beginners. What I love about this is that these bobbin pins come organized. They come with a transparent box that has 25 spots for each bobbin case.
The box can be used for other purposes, too, when it's half empty or empty.
You can keep your beads, threads, needles, etcetera there. You also get a free 60 cm measuring tape with this bobbin case.
I mean, what else do you even want?? Let's see what I like and don't like about this product.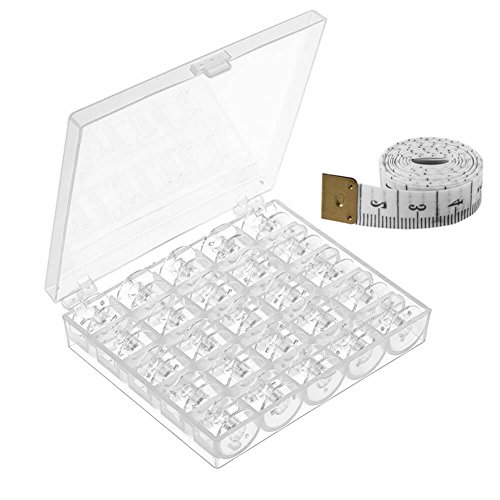 Pros
It comes with a transparent box
Free measuring tape
25 pieces
Standard size
Cons
Average quality
May not work with Singer machines
6. Mudder Plastic Sewing Machine Bobbins
Last but never least, we have some bobbin cases from the Mudder store.
These come with a storage box the bobbin cases are organized. It also keeps them from falling here and there.
These are transparent bobbin pins that are made up of plastic. Their dimensions are 2 x 2 x 1.15 cm (L X W X H).
These bobbin cases are compatible with many commonly used sewing machines. These bobbin cases have a simple and easy-to-use design. The smooth edges of these bobbin cases will save the thread from breaking.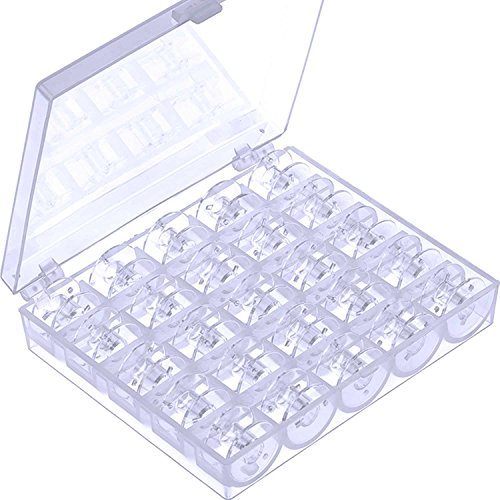 Pros
Beginner-friendly
25 pieces
Smooth edges
Simple design
Cons
Loose closure
Made up of plastic
Buyer's Guide
Price Point
Please, do not buy an overpriced bobbin case. It is going to do the exact same job. Look for a bobbin case that has a strong body (preferably stainless steel) and a good price.
Durability
Look for a reliable and durable bobbin case. A good bobbin case will save you from a lot of hassle. A durable bobbin pin is the best bobbin pin that you can buy. Choose wisely.
Frequently Asked Questions
Are metal or plastic bobbins better?
Both are good in their own way. The metal ones are great for metal cases, whereas plastic ones are best for plastic cases.
Are all bobbin cases the same?
No, they are not. They can be of different sizes or materials.
Do I need a new bobbin case?
You need a new bobbin case when the old one is not working smoothly.
Conclusion
I hope this article increased your knowledge about bobbin cases. If you are still confused, make sure to compare all of the pros and cons. Choose wisely and happy shopping to you!!