Even though a carrying case for your sewing machine is not essential, it is always recommended to have one.
The reason for this is simple; it protects the sewing machine from dust and any other externalities and extends its lifetime.
While most sewing machines do not come with a carrying case, you can invest in one and make your life easier. It can make traveling so much easier and also keep your sewing supplies well organized.
So which best sewing machine carrying case is worth investing in? This article has all the information you require to answer this question.
The buyer's guide will help in providing you with all the pre-requisites to get the perfect carrying case for your particular needs, and the list of reviews will have options that are doing phenomenally well in the market because of their great performance.
Top 7 Sewing Machine Carrying Cases
If you're in a hurry to get a sewing machine carrying case, here's a list of my top picks selected for their great performance and superior quality.
Each option on the list has been carefully researched to provide you with accurate and objective information.
The pros and cons have also been included, so you're aware of any strengths or weaknesses beforehand.
1. HOMEST Sewing Machine Carrying Case
This carrying case comes with padded sidewalls, bottom, and front pockets offering protection from wear and tear for your sewing machine.
The additional dust bag ensures that your machine remains in top condition. The additional pockets are a blessing for anyone who's always short on space.
You can put in small cords or even sewing supplies. This carrying case comes in a variety of colors and designs, so you can choose an option that suits your style.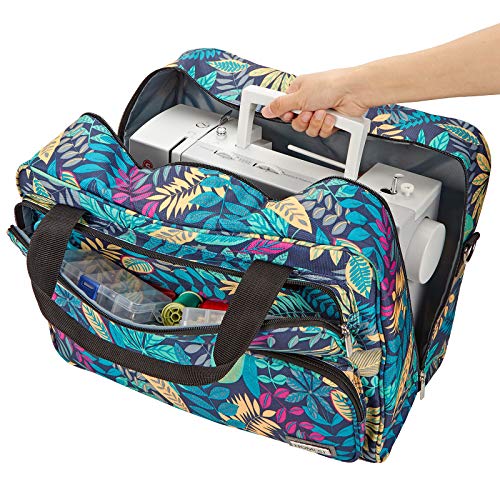 Pros
Two front pockets
Protection from dust
Variety of designs
Cons
No reinforced bottom
Not for heavy sewing machines
2. Luxja Sewing Machine Carrying Bag
The star quality of this carrying case is portability and ease of carrying it around. It has a detachable anti-slip shoulder strap and extra handles to make lugging it around easy breezy.
This carrying case is a bit on the smaller size with Inner dimensions of 16.5″ x 7.5″ x 11″ inches, so some users do complain that it falls a bit short in terms of length, so be careful.
The versatility and extra storage this bag offers are unbeatable.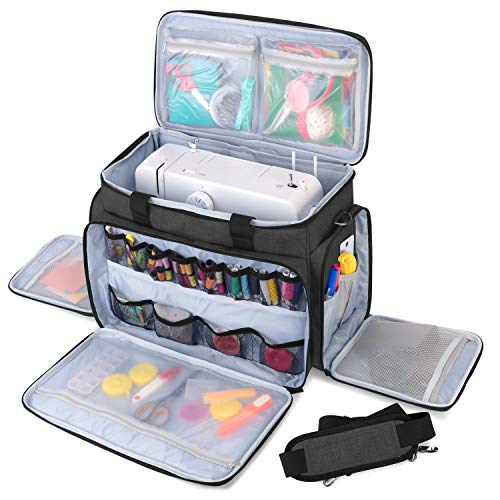 Pros
Padded bottom
Extra storage
Anti-slip shoulder strap
Cons
No instructions
No strap inside for the sewing machine
3. Yarwo Sewing Machine Carrying Case
The portable and sturdy design of the Yarwo sewing machine carrying case is bound to impress anyone who uses it.
The durable nylon bag offers ease of use and a sturdy bottom thanks to the wooden board pad and functional design.
It is roomy and has multiple pockets that you can use for sewing accessories.
The anti-slip shoulder strap ensures that you can travel with your sewing machine in the safest possible way.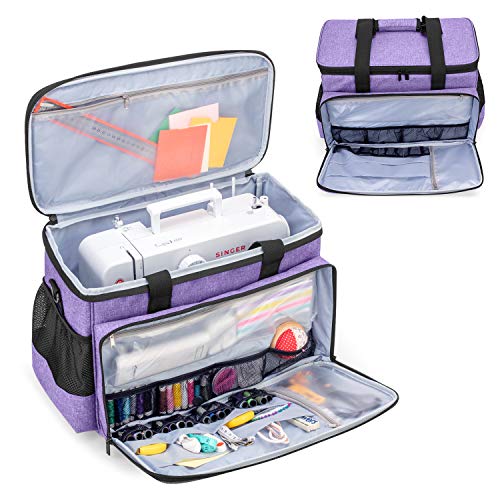 Pros
Wooden board pad bottom
Easy to carry
Functional Design
Cons
Plastic inside compartments
No wheels
4. NICOGENA Sewing Machine Carrying Case
Nicogena sewing machine carrying case has a lot to offer, but the main reason why I picked it to be on the list is because of its universal size.
Most models of Singer, Janome, and Brother sewing machines can fit inside the carrying case with ease. It is easy to clean as well, thanks to the water-resistant outer fabric.
The soft handle, shoulder, and back strap ensure you can travel with your sewing machine with convenience.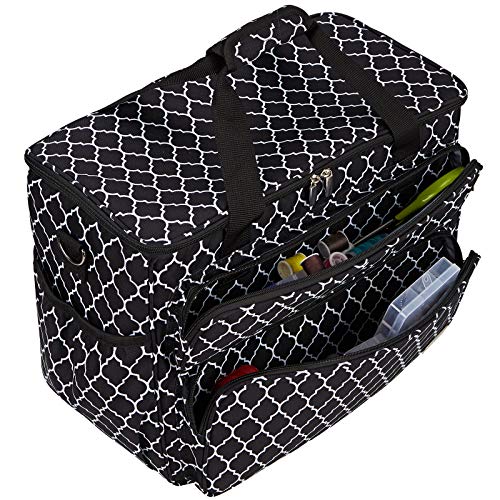 Pros
Water-Resistant
Universal size
Portable
Cons
It needs a sturdier base.
Quality control issues
5. HOMEST Universal Sewing Machine Case
Organizing your sewing supplies and taking them along with you wherever you go has never been easier, thanks to the Homest universal sewing machine carrying case.
It has everything one might want in a sewing machine case, multiple roomy compartments to store all your sewing tools. The design and construction are immaculate, and the quality is commendable.
Some users do feel that it lacks a sturdy bottom; however, this may not be an issue if you don't travel as often.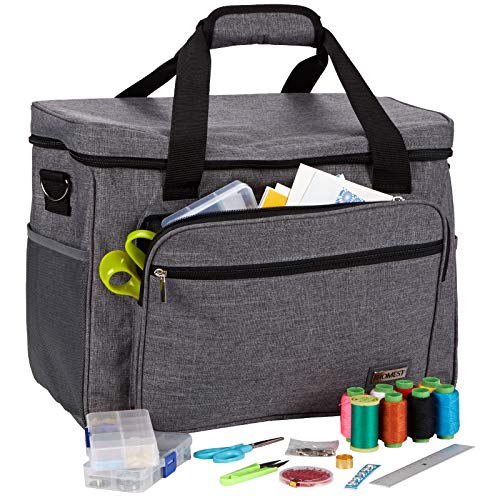 Pros
High quality
Durable
Spacious
Cons
No reinforced feet
Inside compartments are made of plastic
6. Addicted DEPO Sewing Machine Cover
If you are looking for a sewing machine case that can protect you from airborne dust particles, there is no better option.
While this option isn't for traveling, it will protect your sewing machine from deteriorating over time and will keep it safe. It's made from nylon, so you can expect it to be durable, and it also doesn't take up much space as it can be folded easily.
You can use it to protect children and pets from tinkering with your sewing machine as well.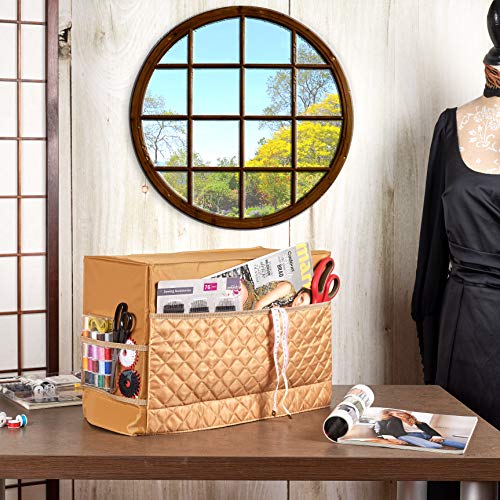 Pros
Space-saving
Durable
Protects from dust
Cons
No grab handle
Pockets are not sturdy
7. Everything Mary Deluxe Sewing Machine Storage Case
It's difficult to find a fault in this carrying case.
The degree of portability offered by this carrying case is unmatched. You get 4, 360-degree rotatable wheels, so this trolley bag will save your shoulders from straining under the immense weight.
The premium quality polyester material of the trolley bag makes it easy to clean and smudge-proof.
You get a variety of color and design options to match your aesthetic and eight storage spaces.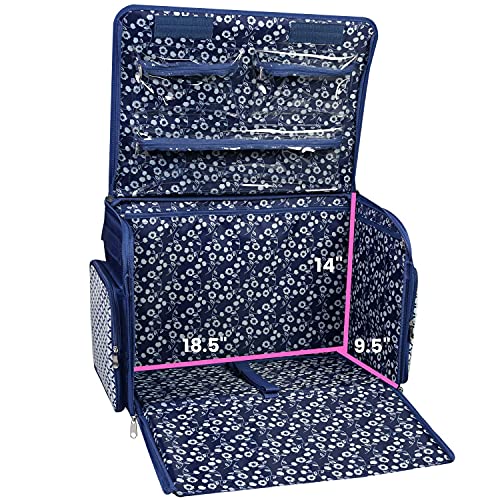 Pros
Portability
Convenience
Smudge-proof
Cons
Buyer's Guide
If you're having trouble making a choice, use this buyer's guide to help you make a conclusive decision.
Before you finalize your decision, make certain that you don't overlook each of the following points, as each factor mentioned in this section plays a key role in ensuring user satisfaction and a good experience.
Size
Possible one of the most important characteristics to consider, because after all, that's the point of getting a carrying case when your sewing machine won't fit in it.
Even though most of the options mentioned in the list will fit the average-sized sewing machine, you still need to double-check and ensure you purchase the right fit.
Check the size of your sewing machine before you invest in a carrying case, especially if your sewing machine has an unusual size.
Durability
This will depend on your needs for a carrying case and how frequently you travel.
If you require a carrying case to take your sewing machine to a class a few blocks away, choosing a soft padded option will be sufficient.
However, if you travel with your sewing machine by air frequently, a harder carrying case is a better option. The objective is to invest in a sewing machine carrying case that can withstand the rough handling they are subjected to.
Additional Features
If you are an avid supporter of convenience and ease of use, then pay close attention to the additional features offered by each carrying case.
Thanks to the wide variety available on the market, every carrying case comes with its own set of features that ensure that the user has the best possible experience.
Keep an eye out for extra pockets that can hold sewing supplies, wheels for more portability, and extra handles for a more comfortable carrying experience.
Frequently Asked Questions
It is possible that you still have some questions running through your head. No need to worry because here are some frequently asked questions answered that might help.
How do you transport a sewing machine?
The best way to transport a sewing machine is to pack it up in good quality and durable carrying case.
Can I take my sewing machine as a carry-on?
That is possible; however, you will need to check with your travel provider to see that it is the appropriate size and weight.
What sewing machine accessories do I need?
A carrying case, pin-cushion, bobbins, and bobbins organizer are some of the accessories most sewing machine users own.
Can you put a sewing machine in a checked bag?
Yes, you can bring in sewing machines as a checked bag or carry on as long as it fits your travel provider's size and weight restrictions.
Is it necessary to have a sewing machine carrying case?
While it is not essential, most sewing machine users recommend having a carrying case because it makes traveling easy. It can provide the necessary protection from dust and other externalities even if you don't travel with your sewing machine often.
Is every sewing machine carrying a case waterproof?
Each carrying case can vary in terms of features they offer; you can look at the product description and construction material for hints.
Carrying cases made from hard plastic may have some degree of water resistance; however, generally, cotton and nylon totes are not waterproof.
Conclusion
I hope the list of reviews and buyer's guide provided you with the assistance you were looking for. In case of some last-minute doubts reading the buyer's guide one more time is advised. Good luck!