For regular sewers, the sewing machine is an important part of their lives. Especially those who do sewing as a profession.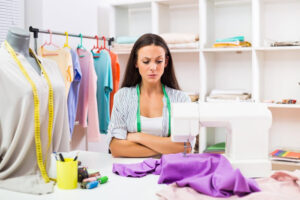 Professional sewers have to work for long hours throughout the whole day, and any problem occurring with the machine could cause huge discomfort.
No one wants any kind of interruption while working.
I have some experience when it comes to sewing machines, so I deem it necessary to share my knowledge so that you might come across some common sewing machine problems and solutions to them.
It is important to have a firm knowledge of what type of problems occur in a sewing machine and how to deal with them so that you don't have to be worried about messing things up during trying times.
Without any further ado, let us start!
1. Loud Noise During Sewing
There could be many reasons for the grinding and humming noise that you come across while sewing.
The most common reason could be lack of maintenance and cleaning. You need to stop the machine and start inspecting it.
Solution: You can try replacing the needle, removing the lint, and also look for loose thread or thread wrapped around unwanted areas. You should handle the problem accordingly.
2. Machine Running Slow
This could happen a lot of times and is a very uncomfortable situation. In this case, you need to take a break and try diagnosing the weak point.
Solution: You can check foot control, adjust speed control, remove any dust or debris from lint and also check the bobbin winder for abnormalities.
3. Machine Not Forming Stitches
There could be many reasons for that.
One of them may be that the needle is not rightly or completely threaded. When threading, keep presser for an upward position in order to alleviate any extra tension.
Solution: One reason can also be that the needle is not compatible with the machine you are using. In this case, you need to replace it. The bobbin may be weary too.
4. Machine Seizes to Operate
You may be using the machine for a long time at slower speeds. This means you have been using much power, and the machine limit crossed. So, the system engaged and shut down the machine to prevent overheating.
Solution: You can turn the machine off and give it some rest before starting to use it again.
5. Motor Not Working
Some sewers also face the problem of the motor, not working.
Solution: In this case, you can check for the power plug if it is rightly fixed, and also, the switch is ON.
If that does not solve the problem, you can check the fuse, which might have been blown due to over surge. You can also check if the power strip is working properly or not.
6. Motor Functioning But No Sewing
If this problem occurs, their solution is fixing one of the parts, and you will find out by inspecting. The problem may be the bobbin winder.
Solution: Check the bobbin winding shaft if it is pressed right. Check the foot control if it is plugged in the right; if not, then correct it. If the needle is not rightly inserted, then fix it.
7. Needle Breaking
The needle could sometimes break or bend. This can happen due to any type of pressure applied vertically or perpendicularly on it, producing shear or buckling.
Solution: You should not apply too much pressure on the fabric while sewing. Don't keep the needle loose and make sure it is compatible with the machine.
8. Interruptions in Stitching
Also known as skipping in stitches, this problem occurs when two or more stitches merge on a point, and you get a missing end.
Solution: You could get the right size of the needle, increase the stitch size, prewash the fabric to avoid any problems. You can also check for errors in a threadlike it being too thick and correct them accordingly.
9. Thread Winding Itself
This problem occurs many times, and it is irritating to many sewers.
Solution: You need to ensure the thread is adjusted rightly to the back of the presser foot from upward and downward sides. This is typically the major reason for such thread behavior.
10. Thread Forming a Bad Mix-Up
This could happen when the thread bunches up and becomes entangled in itself. There can be the main reasons for that.
Solution: You can check and correct bobbin positioning, thread tension, thread feed, presser foot position, thread winding, etc.
11. Stitch Forming Loops
The main reason for this is mostly bobbin not properly wound. This is one of the common sewing machine problems, and solutions are also very simple and easy to follow.
Solution: You can also check for the string tension and adjust it. Machine threading could also be the culprit.
12. Top Thread Breaking
This is also a very trying and unwanted problem. You can check for improper threading and rethread the machine. If the snap is sharp, the reason could be something pointy anywhere along the thread path.
Solution: Move your hand along and try to feel it. You will most certainly find it. The knot in the thread could also be a reason, incorrect tension, presser foot raised could also be the problem. You should correct them.
13. Thread Shredding Near Needle Eye
The main reason for this problem is the quality of the thread you are using. The quality may be poor from the start or deteriorated over time.
Solution: If you are using the thread for some time, it is a sign that you replace it.
You can also check the needle is right for the thread used. If not, replace the needle.
14. Bobbin Thread Breaks
If the bobbin thread breaks much often, this means that you might be using the wrong adjustment for it. Overfilled bobbins could also be the reason.
Solution: Remove any extra thread. A damaged bobbin case may be the problem. In this case, replace the case.
15. Non-Uniform Stitches
This is also a common problem many sewing machine users face. The design becomes unsynchronized and dull.
Solution: I would recommend checking the thread tension and foot placement. Correct them if anything is unusual. You can also avoid using any kind of lack of stabilizer, inferior thread, and deal with the issue.
16. Fabric Not Feeding
If it is not feeding, you can look for these problems. If the presser foot is down, then bring it to the right position.
Solution: If feed teeth are lowered, in this case, raise the feed dog a bit more. Presser foot can also be adjusted in this kind of issue. Check for stitch length and correct it if it is not adequate. Try cleaning and dusting as well.
17. Plucked Fabric
The most major reason for this is the way you use to sew. Keep hands on the fabric and apply pressure to keep it taut so that it does not wrinkle.
Solution: Check hems and seams for any errors.
18. Stitches Not Grabbing Right
This is most probably due to light or loose fabric. In this case, you cannot sew right unless the problem is resolved.
Solution: Try applying pressure to keep the fabric even and taut. Increase foot presser, adjust stitch length, or make sure the needle is rightly adjusted.
19. Sewing Machine Not Threading Properly
This is a problem in the adjustment. Check the user manual if it is available for any insights and missing attention points.
Solution: Turn the handwheel to keep it high and check if the thread is properly inserted.
You can also check for the compatibility of the needle and if it is properly inserted inside the machine for any fixing needs.
20. Needle Threader Not Turning
This is also a very common and simple problem with quite a simple solution, which is just one step.
Solution: If the needle is not up, then make it raise.
Also, adjust the handwheel and turn it up until it reaches the highest point of adjustment and then keeps it there for further operations.
21. Fabric Not Feeding Straight
This is also a common problem and is experienced by many sewers around the world. They have discussed it on many online forums, and I will also suggest a simple and easy-to-apply the solution.
Solution: The needle plate may have bent or worn out teeth; in this case, you replace it. Also, check if the presser foot is properly pressing downwards. Teeth may also be unclean, and in this case, simple dusting will make the problem go away for good.
If these solutions do not work for you, you can ask around in the sewing community for any help too. Trust me; the discussion is always for the better.
Conclusion
I hope I have discussed all the frequent sewing machine problems and solutions with you. I don't think that you need any second thought to DIY the solutions by yourself at home and enjoy a smooth working uninterrupted sewing experience.
You should always try to solve the problem by yourself first. However, if you can not do it on your own, a safer way is to go around and ask for professional help.
Good professional assistance always comes in handy, and you also get to learn something new. So much better than messing it up.
Read Also: